Tom Hurndall Obituary
An aspiring photojournalist and committed peace activist.
In the spring of 2002, Tom Hurndall made a journey around Europe, which then took him on to Egypt and Jordan. He was young, a soon-to-be student, interested in philosophy – and most interested in the contrast between cultures. It was a formative experience. Indeed, an abiding image for his friends is of Tom, who has died aged 22, on his motorcycle, cigarette in hand, riding into the Egyptian desert.
Back in England, he was accepted by Manchester Metropolitan University to study criminology and philosophy. But his passion and natural gifts were for photography and writing, which he saw as ways of highlighting what was important in life. So he switched to a degree in photographic journalism.
A year ago, he photographed the million-strong London anti-Iraq war demonstration. During it, he encountered the group planning to provide human shields in Iraq against the threat of attack by Anglo-American forces.
By February 2003, he was in Iraq, having told his Manchester faculty head that he would still make his course deadlines. He was, after all, amassing a photographic record, and writing journals. But rather than sending the volunteers to hospitals and schools, Saddam regime officials detailed them to power stations and strategic targets.
Tom headed for Jordan. There he offered his remaining £500 to provide medical supplies for Jordanian Iraqi refugee camps, helped courier supplies and worked on building temporary shelters. In Jordan, he encountered the International Solidarity Movement (ISM), whose volunteers – committed to non-violence – were working with Palestinians as they faced the Israeli Defence Force (IDF) in the West Bank and Gaza Strip. By foot, taxi and bus, Tom set off for Gaza, with the aim of recording what he saw.
He arrived in the town of Rafah on April 6 2003 and began emailing images of the IDF and the Palestinians back to his family. The tone of his journals changed dramatically. "No one could say I wasn't seeing what needs to be seen now," he wrote.

The practice of ISM members in Rafah was, while waving their passports, to accompany Palestinians as they attempted to restore water supplies, and telecommunications shot up by the IDF, and to prevent the demolition of houses. On April 11 2003 Tom, dressed in a fluorescent orange ISM vest, was at the end of a Rafah street observing an earthen mound where a score of children were playing. As IDF rifle fire hit the mound, the children fled. But three, aged between four and seven, were paralysed by fear.

Tom, having taken a boy to safety, returned for the girls. He was hit in the head by a single bullet, fired by an IDF soldier. After a two-hour delay on the border, Tom was taken to a specialist hospital in Be'ersheva, and then back to London, where he survived, in a vegetative state, until his death.

Tom was the second of four children born in Camden in north London, the son of a property lawyer and the head of a school learning support unit. He was educated at the Hall School in Hampstead, Highfield in Hampshire and at Winchester College before, back in London, joining Camden School for Girls mixed sixth form. Various jobs followed before that first trip to the Middle East and subsequent student enrolment in Manchester.

The initial IDF field report, which went to the British Embassy in Tel Aviv and to Tom's family, exonerated the soldier who had killed him. He claimed that Tom was in camouflage, and wielding a gun. In the face of a clutch of witness statements, such suggestions were withdrawn. Just before Tom's death, the soldier, a Bedouin Arab of the IDF, was indicted on six charges, of which the most serious was aggravated assault, implying no intention to kill. Since Tom was shot by a rifle with an advanced telescopic lens, his parents are demanding that the charge be murder, but they are also demanding the eradication of the "culture of impunity" with which the IDF operates in the occupied territories of Palestine.

According to B'Tselem, the Israeli Information Centre for Human Rights in the Occupied Territories, between September 29 2000 and December 18 2003 some 377 Israeli civilians and 80 security forces members were killed in Israel. Some 196 Israeli civilians and 180 IDF members were killed in the occupied territories.

In that period, 2,289 Palestinians were killed in the occupied territories, with many tens of thousands injured, most of whom have been civilians. From the end of 2002 to the spring of 2003, four "internationals" were killed in the occupied territories of whom three, including Tom, were British citizens. There have only been a handful of IDF investigations and just two convictions, with lenient sentences. Tom's case is a landmark. For B'Tselem's director Jessica Montell, it "has made a real contribution to the cause of greater military accountability".

Tom, blind to nationalities and borders, exuded humanity. He wanted, he wrote in his journal, "to make a difference". He did. He also had an outrageous sense of humour and will be missed, most of all, because he made those of us who were his friends smile. He is survived by his parents, sister Sophie, and his brothers Billy and Freddy.

* Thomas Peter Hurndall, student, born November 27 1981; died January 13 2004
Stop the Blank check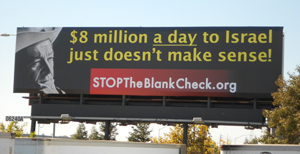 NEW CAMPAIGN! Sign a "check" that promises your vote to the candidate who finally ends our blank check to Israel. Let's deliver thousands of these to political candidates around the country before the next election. Read more
Rachel Corrie
1979 – 2003
On 16 March, 2003, 23-year-old Rachel Corrie was crushed to death by an Israeli military bulldozer. more
Thomas Hurndall
1981 - 2004
21-year-old Tom Hurndall was shot in the head by an Israeli sniper on April 11, 2003. He died nine months later. more