Alison Weir bio
See Alison's articles here.
For the real facts concerning false claims by the ADL,
Jewish Voice for Peace, and others see this.
"Ms. Weir presents a powerful, well documented view of the Middle East today. She is intelligent, careful, and critical. American policy makers would benefit greatly from hearing her first-hand observations and attempting to answer the questions she poses. This is an intellectual, thought-provoking, and worthwhile presentation."
Thomas Campbell, Former US Congressman (R-CA), Dean of Chapman University Fowler School of Law
"When the speech ended, Ms. Weir was met with thunderous applause, and across the room there was a widespread sense of satisfaction that someone was saying what needed to be said."
"Prodigiously documented... Alison Weir must be highly commended for throwing such a brilliantly hard light on the relationship between the United States and Israel."
Ambassador Andrew Killgore, of Weir's new book on US-Israel relations
"[Ms. Weir] has been more objective and fact-based in her approach than most journalists covering the conflict."
In 2001, as the struggle between Palestinians and Israel heated up, Alison Weir left her job as editor of a weekly newspaper and traveled alone to the Palestinian territories. There, she made her way through the West Bank and Gaza, without a guide or a flak jacket, eager to learn what the conflict was all about.
She spoke with Palestinians and Israelis; interviewed mothers, fathers, children, grandparents, hospital workers, teachers. She rushed to the scenes of violence, notebook and camera in hand, and observed Middle East reality first-hand. And she was amazed by what she learned: That the truth of the conflict, on the ground, bore almost no resemblance to the stories told in US media.
Weir came home determined to change that. She began to speak and write on the topic and soon founded If Americans Knew, a nonprofit dedicated to accurately informing Americans. More recently, she also accepted a position as president of the Council for the National Interest. In addition to disseminating transparently sourced data, news, and analysis, If Americans Knew has completed seven in-depth statistical studies of US media coverage of Israel-Palestine.
Drawing on her background as both a civil rights activist and Peace Corps volunteer and the child of a military family, Weir has striven to provide a clear-sighted view of the issue that is free of partisan perspectives or preconceptions and that relies exclusively on facts-based analysis. She believes that open-minded examination of all available evidence, informed by universal principles of human rights, self-determination and justice for all people, is the only way to truly understand the conflict. Thus exposing the truth is, she believes, the best and only hope for justice and, therefore, peace for Palestinians, Israelis, Americans, and indeed the world.
Weir has spoken all over the United States, including two briefings on Capitol Hill, presentations at the National Press Club in Washington DC (broadcast nationally on C-Span), Center for Policy Analysis on Palestine (one also broadcaston C-Span), at World Affairs Councils, and at numerous universities including Harvard Law School, Columbia, Stanford, Berkeley, Yale, Georgetown, the Fletcher School of Law and Diplomacy, Vassar, the Naval Postgraduate Institute, Purdue, Northwestern, and the University of Virginia. She has given papers at various international conferences, lectured in Ramallah and at the University of Qatar, presented at the Asia Media Summits in Kuala Lumpur and Beijing, and given speaking tours in England, Wales, Iran and Qatar.
Weir has also written widely on Israel-Palestine, the US connection, and media coverage. Her first book, Against Our Better Judgment: The Hidden History of How the U.S. Was Used to Create Israel, was published in February 2014 and has received high praise from both ends of the political spectrum. Her essays and articles have appeared in a number of books and magazines, among them The New Intifada (Verso), Censored 2005 (Seven Stories Press), Encyclopedia of the Israeli-Palestinian Conflict (Rienner), The Washington Report on Middle East Affairs, San Francisco Bay View newspaper, CounterPunch, and The Link.
Weir has received various awards and in 2004 was inducted into honorary membership of Phi Alpha Literary Society, founded in 1845 at Illinois College. The award cited her as a ?Courageous journalist-lecturer on behalf of human rights. The first woman to receive an honorary membership in Phi Alpha history.?
Note: Alison is NOT the British historian, who shares the same name.
New Book on the Israel Lobby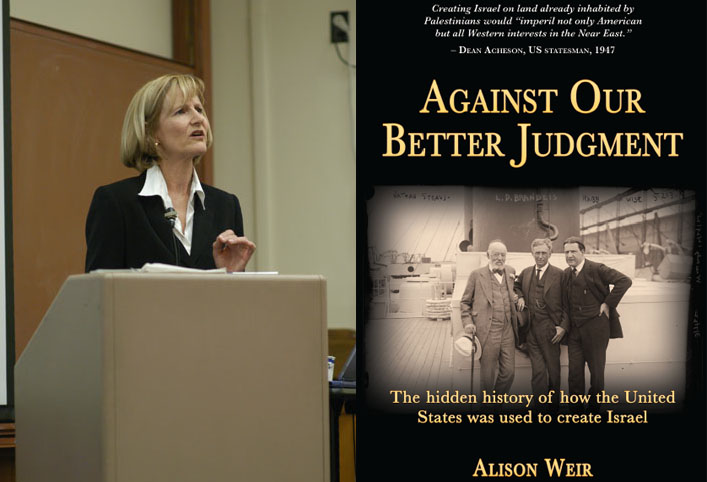 Alison Weir's new book Against Our Better Judgement: How the U.S. was used to create Israel brings together meticulously sourced evidence to outline the largely unknown history of U.S.-Israel relations.
Buy the book on Amazon.com.
Visit the book website for reviews, more ordering options, and upcoming author events.
Invite Alison Weir to Speak

If Americans Knew is a nonpartisan, educational organization. We are happy to provide information and speakers on Israel-Palestine to individuals and groups of all religious, ethnic, racial, and political backgrounds. If Americans Knew supports justice, truth, equal rights and respect for all human beings; and we oppose racism, supremacism, and discrimination of any and all forms. To set up an event, contact us.

Download hi-res photos: