War on Iran? Is Iran Next?
For many years, a number of Israeli leaders have been pushing for a war against Iran. According to Israeli author Israel Shahak, writing in 1993, there were two possible scenarios: In one; Israel would attack Iran alone, in another, Israel "would 'persuade' the West to do the job."
It appears that the second scenario may be underway.
Below are a list of articles, including Shahak's important report, "Israel versus Iran" from Open Secrets: Israeli Nuclear and Foreign Policies, describing events that appear to forebode another American "preemptive war" – this time on Iran.
And for many additional articles on the topic of Iran, please see Israel Palestine News
Trump's "Muslim ban": Israeli strategic plans to "remake the Middle East" from 2001 and before targeted the same countries
Alison Weir, If Americans Knew Blog - With just a single exception, all of these countries were targeted for attack by certain top U.S. officials in 2001. In fact, that policy had roots that went back to 1996, 1991, 1980, and even the 1950s. Here we will trace this policy back in time and examine its goals and proponents. Read more...
Neo-Conservatives And The Israeli Lobby Are Promoting War With Iran, As They Did With Iraq
Allan Brownfeld - Neo-conservatives, together with other elements of the Israeli lobby, the same people who successfully pushed the nation to war with Iraq, a country which never attacked us and never possessed the Bush administration's claimed "weapons of mass destruction," are now promoting war with Iran—-a country more than three times the size of Iraq. more
AIPAC's Fed Candidate Stanley Fischer on a Warpath against Iran
Grant Smith, IRmep - If Americans were ever polled on it—and they never are—the majority who now object to increasing aid to Israel would also likely object to quasi-governmental and governmental positions being staffed by people who—by citizenship or sheer strength of identity politics—are primarily occupied with advancing Israeli interests rather than those of the United States. more
Supporting Terrorists Not a New Policy for the United States
Kourosh Ziabari, KouroshZiabari.com - "The U.S. is as much responsible for the Mujahidin who fought against the Soviets in Afghanistan as any other factor. The CIA term for this sort of activity is 'blowback'. What it means, simply, is that secret actions taken by the CIA in one period, come back to haunt the U.S. in a later period." more
Crying Wolf Over Iran: More Sanctions Won't Help
Philip Giraldi, AntiWar.com - Iran is more sinned against than sinner if one considers the terrorism that has been directed against it, to include the assassinations of its scientists. Israel meanwhile has within recent memory attacked every one of its neighbors while it engages in covert operations directed against Iran primarily but also in Lebanon and possibly in Syria. more
War with Iran? Revisiting the Potentially Staggering Costs to the Global Economy
Charles P. Blair, FAS Strategic Security Blog - War with Iran could cost between $500 billion and $2.8 trillion. more
New Beltway Debate: What to Do About Iran
Carol Giacomo, New York Times - It is a frightening notion, but it is not just the trigger-happy Bush administration discussing – if only theoretically – the possibility of military action to stop Iran's nuclear weapons program. more
Obama advisers discuss preparations for war on Iran
Peter Symonds, World Socialist Web Site - On the eve of the US elections, the New York Times cautiously pointed on Monday to the emergence of a bipartisan consensus in Washington for an aggressive new strategy towards Iran. While virtually nothing was said in the course of the election campaign, behind-the-scenes top advisers from the Obama and McCain camps have been discussing the rapid escalation of diplomatic pressure and punitive sanctions against Iran, backed by preparations for military strikes. more
Letting the Cat Out of the Bag: Attacking Iran for Israel?
Ray McGovern, CounterPunch - Secretary of State Condoleeza Rice is at her mushroom-cloud hyperbolic best, and this time Iran is the target. Her claim last week that "the policies of Iran constitute perhaps the single greatest challenge to American security interests in the Middle East and around the world" is simply too much of a stretch. more
Sen. Gravel Says AIPAC Is Pushing Confrontation With Iran
Philip Weiss, Mondoweiss - I keep declaring that the Walt and Mearsheimer is historic, that it has blasted down a wall in the American discourse. I keep getting more evidence. more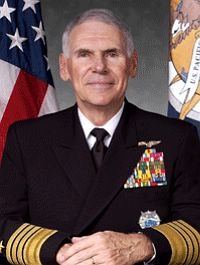 Commander's Veto Sank Threatening Gulf Buildup
Gareth Porter, Inter Press Service News Agency - Admiral William Fallon, then President George W. Bush's nominee to head the Central Command (CENTCOM), expressed strong opposition in February to an administration plan to increase the number of carrier strike groups in the Persian Gulf from two to three and vowed privately there would be no war against Iran as long as he was chief of CENTCOM, according to sources with access to his thinking. more
Iraq, Iran, and the Lobby: Four years after the invasion of Iraq, and the War Party is still in the driver's seat
Justin Raimondo in AntiWar.com - It wasn't supposed to be like this: we weren't supposed to be "celebrating" the fourth anniversary of the U.S. invasion and occupation of Iraq. It was going to be a "cakewalk," the Iraqis would rise up and shower us with rose petals, and Johnny would come marching home in no time. Remember? Besides that, the whole deal would be cost-free, you see, because the revived Iraqi oil industry, no longer under sanctions, would pay the costs of the war. Or so Paul Wolfowitz assured us. more
Iran: The war begins
John Pilger, The New Statesman - As opposition grows in America to the failed Iraq adventure, the Bush administration is preparing public opinion for an attack on Iran, its latest target, by the spring. more
Lost in translation
Jonathan Steele, UK Guardian Comment is free... - Experts confirm that Iran's president did not call for Israel to be 'wiped off the map'. Reports that he did serve to strengthen western hawks. more
Fatal Kiss: the build-up to war with Iran
Uri Avnery - It sounds like a promo for a second rate soap opera: a 21-year-old woman appears with a much older celebrity, who grabs her, forces a kiss on her and pushes his tongue into her mouth. This scene has been occupying the attention of the Israeli public for months now, more than any other topic, except perhaps the allegation that the President of the State sexually assaulted several of his employees. The war and its consequences have been pushed aside. more
Israel's Plan for a Military Strike on Iran
Jonathan Cook in Counter Punch - The Middle East, and possibly the world, stands on the brink of a terrible conflagration as Israel and the United States prepare to deal with Iran's alleged ambition to acquire nuclear weapons. Israel, it becomes clearer by the day, wants to use its air force to deliver a knock-out blow against Tehran. It is not known whether it will use conventional weapons or a nuclear warhead in such a strike. more
Commentary: The US War with Iran Has Already Begun
Scott Ritter in Al Jazeera - Americans, along with the rest of the world, are starting to wake up to the uncomfortable fact that President George Bush not only lied to them about the weapons of mass destruction in Iraq (the ostensible excuse for the March 2003 invasion and occupation of that country by US forces), but also about the very process that led to war. more
Tomgram: McGovern on the Iranian and Israeli nuclear programs
Tom Engelhardt in Tom Dispatch - Here's the strange thing. In the decade that followed the dismantling of the Berlin Wall, nuclear weapons more or less disappeared from American sight. Those potentially world-ending weapons, which had preoccupied two Cold War generations ever since the first of them was exploded over Hiroshima in August 1945, had to queue up at the back of an ever-growing line of global problems to get even their fifteen seconds of attention, no less fame. Suddenly, after 9/11 (when the site where the World Trade Center had once stood was dubbed "ground zero" as if a nuclear explosion had taken place on American soil), nuclear weapons zoomed back to the head of the line. At least in administration rhetoric, mushroom clouds began to go off over American cities and there was a drumbeat of fear about Saddam Hussein's nuclear program (and the rest of his – as it turned out, nonexistent – WMD), leading of course to the invasion of Iraq under the rubric of a "counterproliferation war." more
Reining in Cheney
Ray McGovern of Veteran Intelligence Professionals for Sanity - As long as the Bush administration continues to trot out the bogus claims of Iraq's WMD capacity, we will continue to challenge them. This time, Vice President Dick Cheney is basing his claim that Iran is a threat on Iraq's alleged nuclear capacity before we invaded. McGovern—who spent more than 20 years in the CIA—explains how outraged intelligence analysts are reacting to Cheney's most recent embellishment of the known facts. more
Israeli Air Force: Israel Must Be Prepared for an Air Strike on Iran
Haaretz Staff and the Associated Press - Israel Air Force Commander-in-Chief Major General Eliezer Shakedi said Monday that Israel must be prepared for an air strike on Iran in light of its nuclear activity. more
The Coming Wars
Seymour M. Hersh in The New Yorker - George W. Bush's reelection was not his only victory last fall. The President and his national-security advisers have consolidated control over the military and intelligence communities' strategic analyses and covert operations to a degree unmatched since the rise of the post-Second World War national-security state. Bush has an aggressive and ambitious agenda for using that control—against the mullahs in Iran and against targets in the ongoing war on terrorism—during his second term. The C.I.A. will continue to be downgraded, and the agency will increasingly serve, as one government consultant with close ties to the Pentagon put it, as "facilitators" of policy emanating from President Bush and Vice-President Dick Cheney. This process is well under way. more
Why the hawks are circling over Iran
Rupert Cornwell in the UK Independent - As George W Bush prepares for a second term, his administration is setting its sights on Iran. But, Rupert Cornwell reports, a new foreign policy adventure could be disastrous. more
Now US ponders attack on Iran
Julian Borger and Ian Traynor in the UK Guardian - President Bush's second inauguration on Thursday will provide the signal for an intense and urgent debate in Washington over whether or when to extend the "global war on terror" to Iran, according to officials and foreign policy analysts in Washington. more
The EU, US, Israel and Iran: The Good, the Bad, the Ugly and the "Mullahs"
Sasan Fayazmanesh in CounterPunch - Instead of the "good-cop bad-cop" scenario, it would have been more apt for Mr. Armitage to use the good, the bad and the ugly scheme, since Iran faces not two characters, but three. The third character, the "ugly," is played by Israel. Mr. Armitage conveniently left out the important role of this last character. But this is quite expected. Israel, as the late Edward Said used to say, is the last taboo. It is sacrosanct. No mention of it in the context of the US foreign policy is possible. It is the Teflon state. Nothing sticks to it, not even the charge of spying. more
On to Iran: Won't Get Fooled Again?
Paul Craig Roberts in CounterPunch - It is not yet Bush's second term. All available US troops are tied down in Iraq by a few thousand lightly armed insurgents. Go-it-alone Bush has isolated America from her allies. And the neocons want to spread their war to Iran. more
Fanning the Hysteria About Iran: NPR Leads the Charge to War
Mike Whitney in CounterPunch - When did "liberal" NPR become a champion of American aggression against Iran? Listeners to National Public Radio are increasingly apt to criticize the "rightward shift" in the station's news coverage. The August 30 "Morning Edition" program, however, reached a new low for slanted journalism and for making the Bush Administration's case for war with Iran. more
Israel versus Iran
Israel Shahak in Open Secrets - Since the spring of 1992 public opinion in Israel is being prepared for the prospect of a war with Iran, to be fought to bring about Iran's total military and political defeat. In one version, Israel would attack Iran alone, in another it would "persuade" the West to do the job. The indoctrination campaign to this effect is gaining in intensity. It is accompanied by what could be called semi-official horror scenarios purporting to detail what Iran could do to Israel, the West and the entire world when it acquires nuclear weapons as it is expected to a few years hence. more
Israel-Palestine Timeline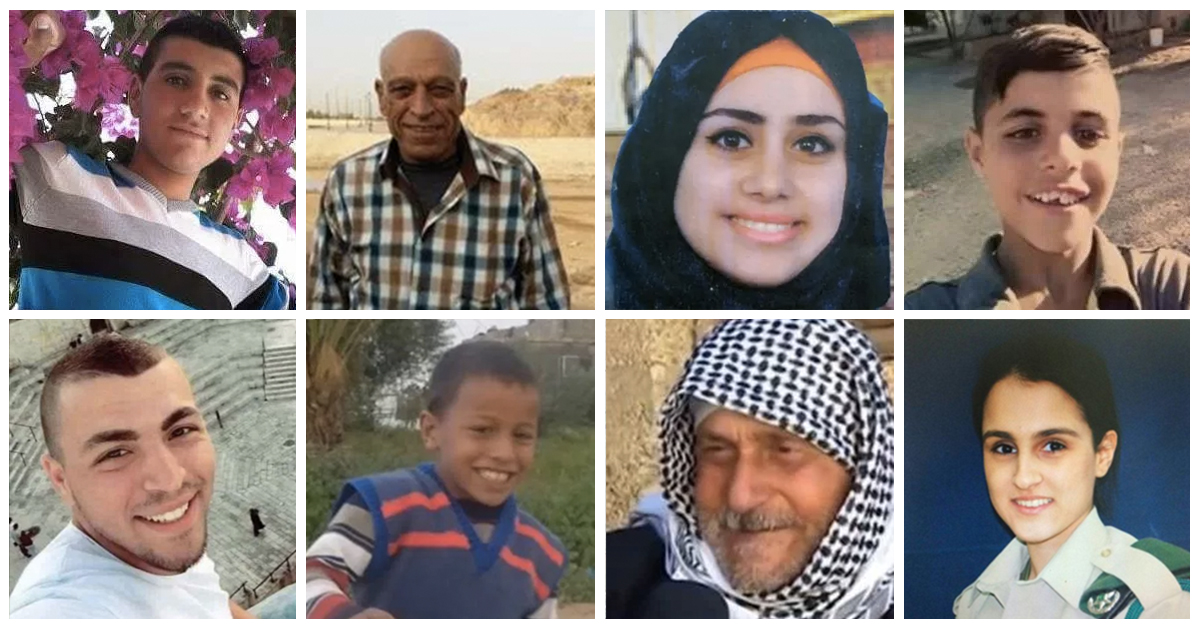 Israel-Palestine Timeline: The human cost of the conflict records photos and information for each person who has been killed in the ongoing violence.
History of the Israel Lobby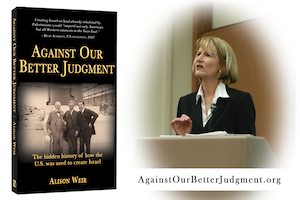 Alison Weir's book Against Our Better Judgement: How the U.S. was used to create Israel brings together meticulously sourced evidence to outline the largely unknown history of U.S.-Israel relations.
Buy it on Amazon, and visit the book website for reviews, more ordering options, and upcoming author events.
---
Stay Informed
Sign up for our mailing list and receive an email whenever we post a new article on our news site, Israel-Palestine News.