Israeli Spying on the United States
[The Pentagon and the Department of State] are channels through which flow thousands of messages dealing with the nation's top secrets each day...
But how secure are the secrets?
The leaks to Israel are fantastic. If I have something I want the secretary of state to know but don't want Israel to know, I must wait till I have a chance to see him personally.
This declaration came from an ambassador, still on active duty in a top assignment, while he reviewed his long career in numerous posts in the Middle East. Although hardly a household name in the United States, his is one of America's best-known abroad. Interviewed in the State Department, he spoke deliberately, choosing his words carefully: "It is a fact of life that everyone in authority is reluctant to put anything on paper that concerns Israel if it is to be withheld from Israel's knowledge," said the veteran. "Nor do such people even feel free to speak in a crowded room of such things."
– Paul Findley, They Dare To Speak Out
(Entire chapter coming soon.)
For more recent articles see: IsraelPalestineNews.org
Israel's Decades of Economic Espionage in the United States
Duncan L. Clarke - Israel, which receives billions of dollars from the United States, has conducted espionage in the U.S. – especially economic espionage – since its creation in 1948. The illegal behavior includes fraudulent diversion of U.S. foreign aid, illicit retransfer of sensitive U.S. technologies to third parties, and violation of end-use restrictions on U.S. military items transferred to Israel. A senior former U.S. intelligence official says: "Israel can steal right and left, but we will still pump money in." more
Stealing Success Tel Aviv Style
Philip Giraldi, AntiWar.com - And there is another aspect of Israel's growing high tech sector that he understandably chose to ignore because it is extremely sleazy. That is the significant advantage that Israel has gained by systematically stealing American technology with both military and civilian applications. The US developed technology is then reverse engineered and used by the Israelis to support their own exports with considerably reduced research and development costs, giving them a huge advantage against American companies. more
Breaking the Taboo on Israel's Spying Efforts on the United States
Christopher Ketcham, AlterNet - Israel runs one of the most aggressive and damaging espionage networks targeting the U.S., yet public discussion about it is almost nil. more
Now I've Seen Everything: A spy goes to work for a thinktank
Justin Raimondo, AntiWar.com - Of course there's nothing all that unusual about a spy going to work for a Washington thinktank. Ex-CIA employees do it all the time: so do all sorts of other spooks, who would otherwise be haunting the world's darkest corners. No big deal. But what I've never seen, and don't recall ever hearing about, is the spectacle of a spy for a foreign country being hired by any organization that hopes to influence U.S. foreign policy. Well, here's one for the record books: the Middle East Forum has hired Steve Rosen, once the head of policy development for the America Israel Public Affairs Committee (AIPAC). Rosen is accused of stealing highly classified information from the U.S. government and passing it on to Israeli government officials. more
Israel's "Spy" in the White House
MER Monthly Magazine - Take the word "spy" here in the overall context of the background, role, connections and allegiances of Rahm Emanuel. more
Army veteran accused of slipping secrets to Israel in '80s
Larry Neumeister, San Francisco Chronicle - An 84-year-old U.S. Army veteran was charged with revealing secrets about America's nuclear weapons, fighter jets and missiles to Israel more than 20 years ago in a case linked to an earlier spy scandal that strained U.S.-Israeli relations. more
Where Did AIPAC Come From?
Grant Smith, AntiWar.com, Excerpt from Foreign Agents - AIPAC was founded by Isaiah L. "Si" Kenen, springing from the American Zionist Committee for Public Affairs Kenen registered twice with the U.S. Department of Justice under the Foreign Agent Registration Act (FARA) as a foreign agent for Israel. more
AIPAC on Trial: The lobby argues that good Americans spy for Israel?
Justin Raimondo in The American Conservative - Is there a First Amendment right to engage in espionage? Dorothy Rabinowitz seems to think so. Describing the actions of Steve Rosen and Keith Weissman, two former top officials of AIPAC, the premier Israel lobbying group, who passed purloined intelligence to Israeli government officials, the Pulitzer Prize-winning journalist characterized them as "activities that go on every day in Washington, and that are clearly protected under the First Amendment." If what Rabinowitz says is true—if passing classified information to foreign officials is routine in the nation's capital—then we are all in big trouble. more
Video: Israel Is Spying In And On The U.S.?
Fox News - It has been more than 16 years since a civilian working for the Navy was charged with passing secrets to Israel. Jonathan Pollard pled guilty to conspiracy to commit espionage and is serving a life sentence. At first, Israeli leaders claimed Pollard was part of a rogue operation, but later took responsibility for his work. Now Fox News has learned some U.S. investigators believe that there are Israelis again very much engaged in spying in and on the U.S., who may have known things they didn't tell us before September 11. Fox News correspondent Carl Cameron has details in the first of a four-part series. more
Lawsuit says Caltech Provost ignored Israeli spying & retaliated against whistleblower
Alison Weir - According to the lawsuit, a small coterie of Caltech professors and administrators ignored Israeli spying and theft of taxpayer-funded U.S. technology and then retaliated against the professor for reporting it. Caltech Provost Edward Stolper, who has ties to Israel and received an honorary degree from one of its universities, seems to have been one of those leading the charge. more
Israel-Palestine Timeline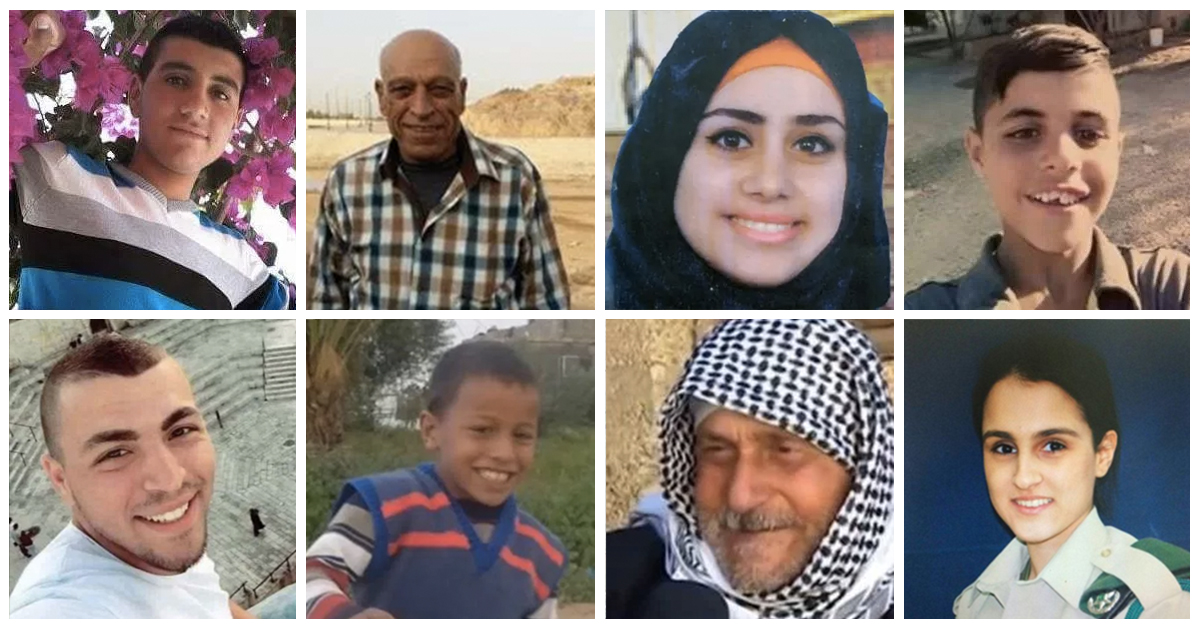 Israel-Palestine Timeline: The human cost of the conflict records photos and information for each person who has been killed in the ongoing violence.
History of the Israel Lobby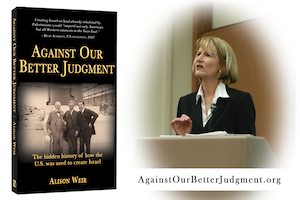 Alison Weir's book Against Our Better Judgement: How the U.S. was used to create Israel brings together meticulously sourced evidence to outline the largely unknown history of U.S.-Israel relations.
Buy it on Amazon, and visit the book website for reviews, more ordering options, and upcoming author events.
---
Stay Informed
Sign up for our mailing list and receive an email whenever we post a new article on our news site, Israel-Palestine News.