Top Story #1
Top Story #2
Top Story #3
Top Story #4
Top Story #5
The Israeli-Palestinian conflict is one of the world's major sources of instability. Americans are directly connected to this conflict, and increasingly imperiled by its devastation.

It is the goal of If Americans Knew to provide full and accurate information on this critical issue, and on our power – and duty – to bring a resolution.
Please click on any statistic for the source and more information.
During the past fiscal year, the U.S. is providing Israel with at least $10.7 million per day in military aid and $0.73 million per day in foreign aid to the Palestinians. (For information on expenditures on behalf of both populations, go here.)
A 2018 study of the Associated Press found that Israeli deaths were reported on at a rate of nearly four times greater than on Palestinian deaths. Earlier studies found similar or even larger distortion.
The Israeli unemployment rate is X%, while the Palestinian unemployment in the West Bank is X% and X% in Gaza.

Updated: Q4 2020
Source

The state of Israel, established in 1948 by its founding war, has appropriated approximately 91 percent of the land in what originally was called Palestine.
To learn who promoted the disastrous Iraq War see this.
For information on the massive weekly non-violent demonstrations in Gaza [2018-2019], see here.
Emergency Gaza Outreach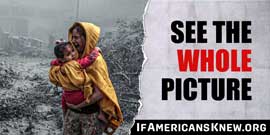 We're reaching out to Americans through a combination of traditional roadside billboards, both digital and mobile billboards, and highly targeted Instagram ads…

Learn more
What's Happening Now
For up to the moment news from the region, go here.
For the latest news and analysis from diverse sources, go to Israel Palestine News.
Facts About Gaza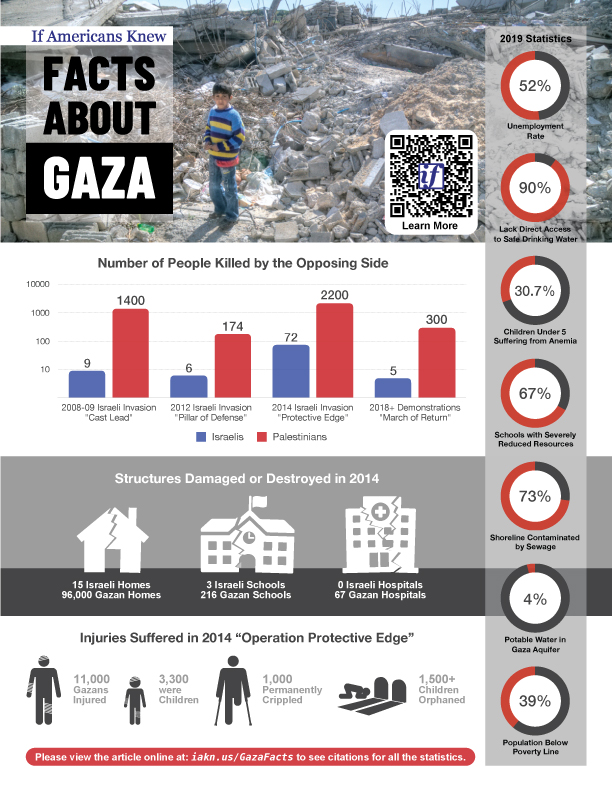 Fact sheet containing stats and context about life in the Gaza Strip (available for download or order)…

Read more
Support Our Work
Please give whatever you can to support our ongoing efforts to raise awareness and put an end to the attrocities of the Israeli occupation of Palestine.
Israel-Palestine Timeline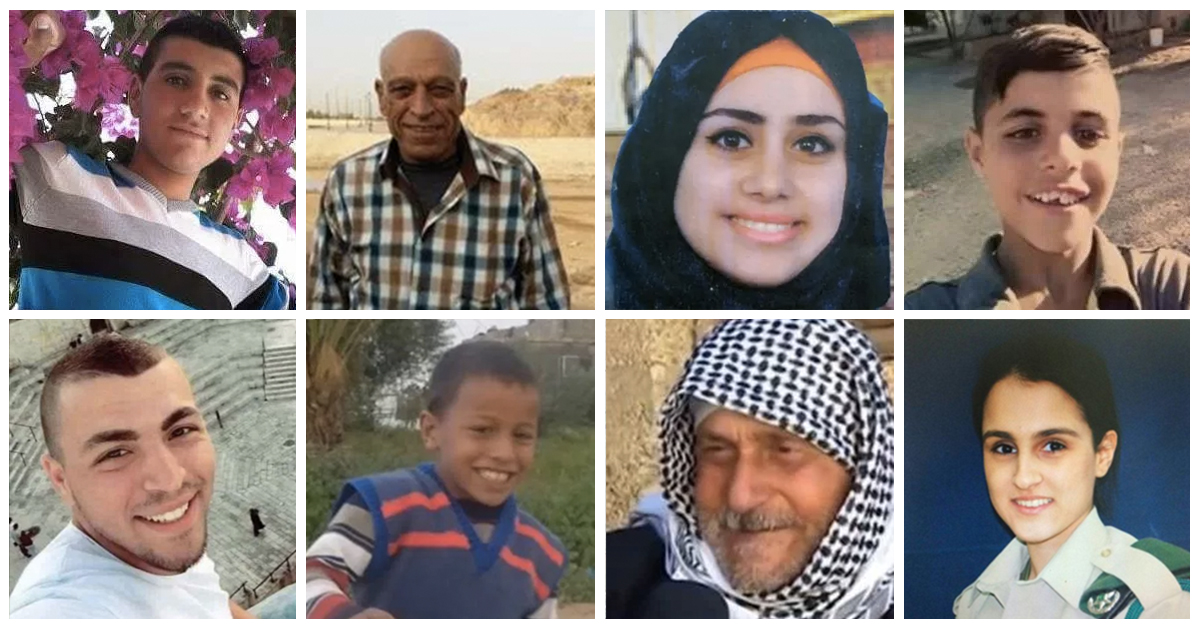 Israel-Palestine Timeline: The human cost of the conflict records photos and information for each person who has been killed in the ongoing violence.
Interview with Alison Weir
In this short clip Alison talks about how she came to be aware of the Israel/Palestine conflict, America's role in it all, and about our ability and responsibility as U.S. citizens, to put an end to Israeli aggressions in the region. Full interview here
Latest Articles from Israel-Palestine News
Truce & hostage/prisoner update, humanitarian situation, West Bank killing, Ahed Tamimi, attempted bribes, Burlington shooter pleads "not guilty," and more Read more
---
Updates on humanitarian aid, Israeli truce violations, prisoners-hostages, Palestinian students in Vermont shot, US military involvement, Elon Musk, and more Read more
---
Updates on hostages & prisoners, truce, humanitarian aid, evacuation, and West Bank killings by Israel Read more
---
New York Times: In less than two months, more than twice as many women and children have been reported killed in Gaza than in Ukraine after two years of war Read more
---
Israeli eyewitnesses have exposed Israel for misleading the world about the killings of 12-year-old Liel Hetzroni, her family, and her neighbors. (This is just the latest correction to Israel's long string of anti-Hamas propaganda) Read more