Understanding the Crisis in Gaza
Important Facts and Context
Note: This page gives information about the situation in Gaza prior to the violence which began on October 7th, 2023.
For information on the situation after Oct. 7 see https://israelpalestinetimeline.org/ and https://israelpalestinenews.org/
Background
Israel was created in 1948 through a political movement that had begun in Europe in the 1800s. Known as Political Zionism, the goal of this secular movement was to create a Jewish state in Palestine, even though at that time the population of Palestine was 85% Muslim, 15% Christian, and 4% Jewish. This movement eventually succeeded with Israel's founding war, termed its "war of independence," in which three-quarters of a million Palestinians were violently pushed out and Israel was established on 78% of Mandatory Palestine. Although in 1949 the United Nations affirmed the refugees' right to return to their land, Israel has not allowed them to return to their homes because they are not Jewish.
In 1967, Israel launched a war against its neighbors, and conquered the rest of Palestine — the West Bank and the Gaza Strip – and began a decades-long military occupation.
Israel began confiscating large swaths of Palestinian land in these occupied territories and moving Jews onto it. These colonies, which are illegal under international law, are called settlements. Palestinians and other non-Jews are not allowed to live in them.
Gaza: An Open-Air Prison
In 2005, Israel removed its settlements from Gaza, resettling the inhabitants in Israel and the West Bank (where today over 620,000 Israelis live illegally on Palestinian land), but continued to control all exits and entrances, its air space, and its seaports. In effect, Gaza became an open-air prison for its approximately 2.1 million inhabitants (75% of whom are from families expelled from their land by Israel in its founding war to create a Jewish state).
In 2006, in what was universally hailed as a free, democratic election, Palestinians elected members of Hamas, a Palestinian political party with a militant wing, to a majority of the seats in the Palestinian legislature. A unity government of Hamas and the former ruling party, Fatah, was formed.
Israel was not happy with this result and has worked ever since to undermine it. Western powers declared a boycott of the Palestinian Authority as long as Hamas was included in the government. In 2007, this pressure caused the government to splinter, with Hamas in charge in Gaza, and Fatah in control in the West Bank.
Israel then instituted a strangling blockade of Gaza (expanding its earlier blockades), which has remained in place ever since. Israel consistently blocks the food, medicine, and other essential supplies needed by the population of Gaza, and has created a humanitarian disaster:
In 2021, Israel rejected, delayed, or ignored 36 percent of over 15,000 patients' requests for permits to exit Gaza for medical care. Here is one example of this situation.
Imbalance of Power and Loss of Life
Israel has invaded and shelled Gaza frequently over the past 20 years. Resistance groups in Gaza attempted to fight back, and some Palestinian fighters began launching rockets against Israeli towns. The first one was launched from Gaza in October 2001.
Often described as a significant threat to Israeli security, most of these rockets are small, homemade projectiles that normally kill no one and only rarely cause damage. Since 2001, these have killed 28 Jewish Israelis, as well as 2 foreign workers and 4 Palestinians in Israel (as of May 2023). Many of the casualties have been in Israeli town of Sderot, which was created on the rubble of Najd, a Palestinian town that had been ethnically cleansed in 1948.
Israeli forces, on the other hand, are one of the strongest militaries on earth, and are equipped with massive, modern weaponry, much of it supplied by American taxpayers: F-16s, helicopter gunships, tanks, armored vehicles, nuclear weapons, etc. Palestinian weapons are no match.
Since September 2000, Israeli Defense Forces have killed at least 9,560 Palestinians, the majority of them in Gaza.
While Israeli violence is often described as retaliatory, the fact is that in nearly all cycles of violence Palestinians are killed first. In the uprising that began in fall of 2000, 91 Palestinian children were killed before a single Israeli child was killed.
Since the permanent blockade began in 2007, Israel has launched a number of attacks on the people of Gaza.
Israeli Invasion of Gaza Dec 27, 2008 — Jan 18, 2009
After two years of Israel's brutal blockade and Palestinian resistance, on June 19, 2008 a 6-month truce went into effect between Israel and fighters in Gaza. The terms of the truce were that Israel stop all invasions into Gaza and reduce its blockade on Gaza, and that Palestinians stop all rocket attacks on Israel.
Although Hamas complied, Israel never fulfilled its obligation to ease the siege of Gaza, which had created, according to numerous relief organizations, "catastrophic" humanitarian conditions. Christian Aid appealed to Israel to stop withholding food and medicine as collective punishment (which violates international humanitarian law) against Gaza's 1.8 million men, women, and children (70-80% of whom are refugees, or their descendants, from 1948).
The truce did not last the full six months: while Gazan resistance maintained the ceasefire, Israel killed 6 Palestinians in Gaza on November 4th – the day that the world's attention was on Barack Obama's election as President of the United States.
Hamas retaliated against the killings by shooting rockets toward Israel. The media reported this and claimed that Hamas was the instigator.
2008 - 2009 Invasion of Gaza

People killed (all ages)

Children killed
On December 27th, Israel began a premeditated air, land, and sea assault on Gaza that reduced large areas to rubble. Like shooting fish in an over-crowded barrel. In three weeks Israeli forces killed 1,417 Palestinians — 313 of them children — and injured 5,303. Palestinians killed 9 Israelis during this time. Israeli strikes damaged and destroyed huge numbers of homes, causing a third of all Gazans to be displaced at some point during the assault. According to the WHO, "Vital infrastructure has been compromised or destroyed, resulting in a lack of shelter and energy sources, deterioration of water and sanitation services, food insecurity and overcrowding."
After ignoring calls for a ceasefire for 3 weeks, Israel finally declared what it called a "unilateral ceasefire" on January 18th. Palestinian factions called a ceasefire as well a few hours later.
Subsequent Ceasefire Violations
It was widely reported by the media that this ceasefire was first breached by Palestinians on January 27th 2009. In reality, however, Israel had already violated the ceasefire at least seven times, including killing two farmers — the first only a few hours after the ceasefire went into effect — and shooting a child.
A study conducted of all the ceasefires, truces, and periods of calm during 2000-2008 concluded:
"...a systematic pattern does exist: it is overwhelmingly Israel, not Palestine, that kills first following a lull. Indeed, it is virtually always Israel that kills first after a lull lasting more than a week."
2012 Israeli invasion of Gaza
In 2012, Israel initiated another lopsided war against Gaza, beginning with the assassination of Hamas leader Ahmed al-Jabari. Al-Jabari had nearly completed the process of negotiating a permanent ceasefire with Israel, but Israel's military preferred violence.
2012 Invasion of Gaza: November 14 - 21, 2012

People killed (all ages)

To see a chronological list of people killed since September 2000, please visit IsraelPalestineTimeline.org.
The invasion lasted 8 days, during which 6 Israelis (4 civilians and 2 soldiers) died, along with 174 Palestinians (between 60 and 109 were civilians).
2014 Israeli invasion of Gaza
In the summer of 2014, the Israeli military killed 185 Palestinians in 8 days before the first Israeli was killed on July 15th. Israel began with airstrikes, then switched to a ground invasion.
The incursion ended with 66 Israeli soldiers and 6 Israeli civilians dead - one of which was a child. In Gaza, about 2200 Palestinians were killed - of which 700 were fighters and 1500 civilians, including 500 children, 16 health care workers, and 9 journalists.
116,000 Gazan homes were damaged or destroyed, leaving over 100,000 people homeless; 216 Gazan schools, 67 Gazan health care facilities were damaged or destroyed. Of the 11,000 Gazans injured, 3,300 were children; 1,000 of them are permanently disabled. More than 1,500 Palestinian children were orphaned. About 550 Israelis were injured, 16% of them civilians.
The Great Return March: 2018-19
On March 30th, 2018, an estimated thirty thousand Palestinian civilians organized along the Gazan border fence for a massive unarmed protest against the Israeli occupation and to call attention to their right to return to their land. The protest was dubbed "The Great Return March." This continued every week until December 27, 2019.
Israel responded to the Great Return March by stationing over 100 snipers along the border with 'shoot to kill' orders.
People killed (all ages) between March 30, 2018 and December 27, 2019

By the time the protests ended on December 27, 2019, more than 35,600 demonstrators (6,000 of them children) had been injured by Israeli forces. During that time period, Israeli forces killed 354 Palestinians in Gaza. According to B'Tselem, 223 of those killed were taking part in the Great March of Return demonstrations, 46 of them minors. Meanwhile, Palestinian resistance groups killed 8 Israelis and one Palestinian in Israel. A Timeline of Palestinian and Israeli deaths is here.
May 2021 Assault on Gaza
After a month long wave of aggression against Palestinians by Israeli military and settlers, Israeli soldiers stormed the Al-Aqsa Mosque in Jerusalem, prompting Hamas to launch rockets into Israel and kicking off 15 days of Israeli airstrikes, causing mass death and destruction. By the time a ceasefire was called on May 21st, 253 Gazans had been killed, including 66 children, and 1,948 Gazans had been injured. 12 Israelis were also killed, including 1 child, and 324 were injured. See here for a more detailed account of these events.
People killed (all ages) between May 10th and 21st

Of the 13 who died in Israel, 5 were Jewish Israelis directly killed by Gazan rockets. The other deaths were 3 foreign workers, 2 Palestinian citizens of Israel, and 3 Israelis who died after falling while running to bomb shelters (including one who had a brain aneurysm).

In addition to the 239 killed by Israel in Gaza, another 21 were killed by friendly fire.

For information about rocket attacks, see IfAmericansKnew.org/rockets
Children killed

Tragically, many children have lost their lives in this conflict. Please visit our Timeline for more information.
Homes destroyed/uninhabitable

These figures include single family homes as well as residential units in apartment buildings.

Source: PAL

Note: We were unable to find statistics for destroyed Israeli homes. However, we found images of about 5 badly damaged homes.
Units Damaged

These figures include single family homes, residential units, and other buildings.
Displaced Persons

These figures include single family homes, residential units, and other buildings.

Source: PAL

Note: We were unable to find statistics for displaced Israelis. However, we found images of about 5 badly damaged homes. Our figure is based on an estimate of 10 residents per home.
August 2022 Assault on Gaza
People killed (all ages)

49 Palestinians, including 17 children, were killed during Israel's three-day assault on Gaza August 5 – 7, 2022 that it named 'Operation Breaking Dawn'
May 2023 Assault on Gaza
People killed (all ages)
May 3 - 12, 2023

In the round of violence that began in May 2023, Israeli forces bombing the Gaza Strip have so far (persons injured in these attacks sometimes die months later as a result) killed 33 Palestinians, many of them civilians, including 6 children, 3 women, and a prominent doctor. Palestinians then killed one Israeli. The names, ages and circumstances are here.
Americans are Involved
American taxpayers give Israel more than $10 million per day — far more than to all the starving countries of Africa put together – positioning us as responsible for Israeli violations of human rights. In the United Nations, the US has frequently vetoed resolutions to restrain Israeli violence, alienating our country from most of the world.
US policies are largely driven by a special interest lobby on behalf of Israel. Until more Americans become informed and active on this issue, such policies - which fund violence, prevent peace, and cause dangerous and unnecessary hostility against the United States - will continue.
Important Statistics
(Table not included on printed fact sheet)
Sept. 29 2000* through April 2018 (*beginning of Second Intifada/Uprising)
Palestinians Killed by Israelis:
9,914
Israelis Killed by Palestinians:
1,276
Palestinians killed by Israelis on Palestinian land:
99%
Israelis killed by Palestinians on Israeli land:
48%
Palestinian Children Killed by Israelis:
2,172
Israeli Children Killed by Palestinians:
134
5 -Week Assault on Gaza in 2014 (July 8 - August 26)
Palestinian Children Killed by Israelis:
527
Israeli Children Killed by Palestinians:
1
Gazans displaced at some point during conflict:
approx. 520,000
Additional Statistics
1948 refugees residing in the West Bank:
760,000
1948 refugees residing in the Gaza Strip:
1,300,000
Total Palestinian refugees worldwide:
more than 7,000,000
Palestinians held prisoner by Israel:
4,900 (May 2023)
Israelis held prisoner by Palestinians:
0
Palestinian children held prisoner by Israel:
155 (May 2023)
Israeli children held prisoner by Palestinians:
0
Conflict pauses of a week or more broken by Palestinians:
4%
Conflict pauses of a week or more broken by Israelis:
96%
Size of Gaza:
139 sq mi
Size of West Bank:
3,461 sq mi
Size of Israel (within pre-1967 borders):
12,906 sq mi
Infographic on back:
(The flyer is accurate up to 2019. Some additional information has been added to this page since then.)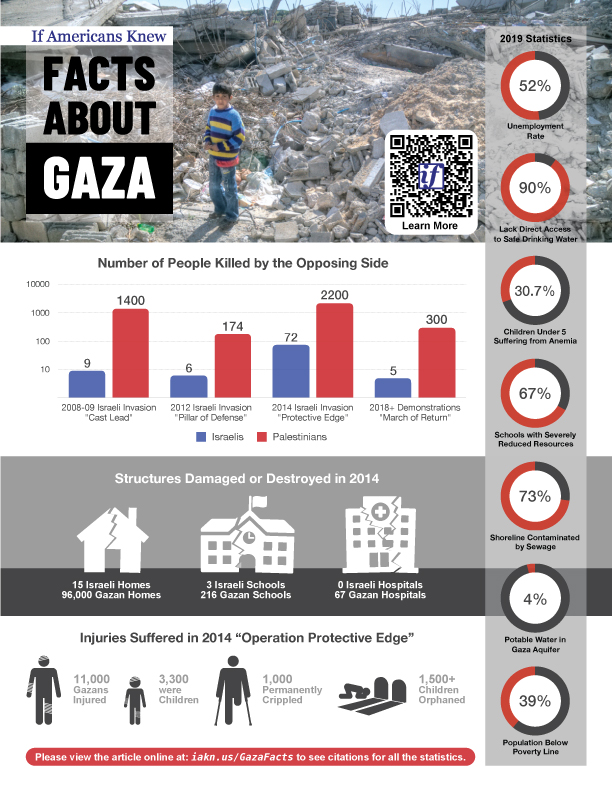 Israel-Palestine Timeline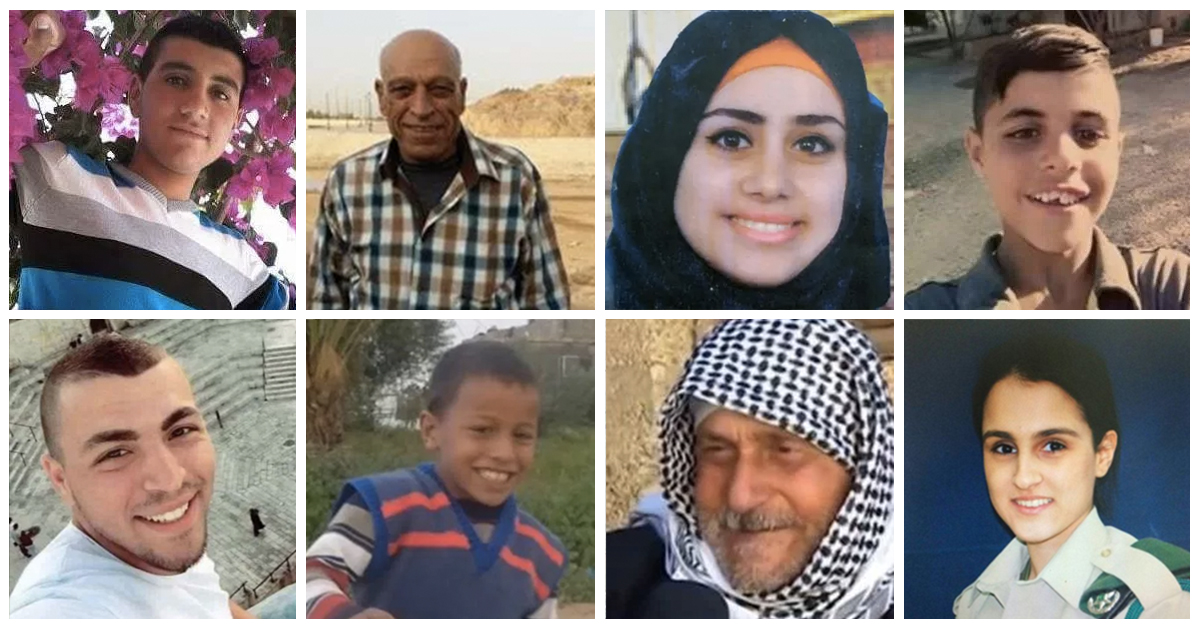 Israel-Palestine Timeline: The human cost of the conflict records photos and information for each person who has been killed in the ongoing violence.
History of the Israel Lobby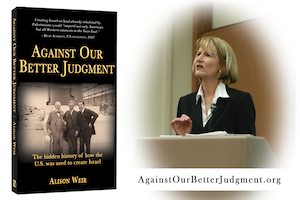 Alison Weir's book Against Our Better Judgement: How the U.S. was used to create Israel brings together meticulously sourced evidence to outline the largely unknown history of U.S.-Israel relations.
Buy it on Amazon, and visit the book website for reviews, more ordering options, and upcoming author events.
---
Stay Informed
Sign up for our mailing list and receive an email whenever we post a new article on our news site, Israel-Palestine News.