Neoconservatives
"Neoconservative" is the somewhat misleading term for an increasingly influential group in Washington these days largely responsible for the push toward war in the Middle East.
Previously terming themselves "leftists," and now calling themselves "conservatives," in actuality neo-cons seem to be neither. Rather, their ideology largely revolves around passionate devotion to Israeli interests.
Not long ago some of these "neoconservatives" wrote position papers for Israeli politicians. Now they are occupying a growing number of top-level and mid-level positions in the US government. They seem to consider Israeli interests synonomous with American interests. Most American policy experts disagree.
Following are articles from former CIA analysts, Pentagon officers, and journalists describing the activities of these increasingly powerful individuals.
If there is anything that Americans should inform themselves on, it is this growing Israeli-centric influence on American policies.
A Rose by Another Name
The Bush Administration's Dual Loyalties
Since the long-forgotten days when the State Department's Middle East policy was run by a group of so-called Arabists, U.S. policy on Israel and the Arab world has increasingly become the purview of officials well known for tilting toward Israel. From the 1920s roughly to 1990, Arabists, who had a personal history and an educational background in the Arab world and were accused by supporters of Israel of being totally biased toward Arab interests, held sway at the State Department and, despite having limited power in the policymaking circles of any administration, helped maintain some semblance of U.S. balance by keeping policy from tipping over totally toward Israel. But Arabists have been steadily replaced by their exact opposites, what some observers are calling Israelists, and policymaking circles throughout government now no longer even make a pretense of exhibiting balance between Israeli and Arab, particularly Palestinian, interests.
In the Clinton administration, the three most senior State Department officials dealing with the Palestinian-Israeli peace process were all partisans of Israel to one degree or another. All had lived at least for brief periods in Israel and maintained ties with Israel while in office, occasionally vacationing there. One of these officials had worked both as a pro-Israel lobbyist and as director of a pro-Israel think tank in Washington before taking a position in the Clinton administration from which he helped make policy on Palestinian-Israeli issues. Another has headed the pro-Israel think tank since leaving government.
The link between active promoters of Israeli interests and policymaking circles is stronger by several orders of magnitude in the Bush administration, which is peppered with people who have long records of activism on behalf of Israel in the United States, of policy advocacy in Israel, and of promoting an agenda for Israel often at odds with existing U.S. policy. These people, who can fairly be called Israeli loyalists, are now at all levels of government, from desk officers at the Defense Department to the deputy secretary level at both State and Defense, as well as on the National Security Council staff and in the vice president's office.
We still tiptoe around putting a name to this phenomenon. We write articles about the neo-conservatives' agenda on U.S.-Israeli relations and imply that in the neo-con universe there is little light between the two countries. We talk openly about the Israeli bias in the U.S. media. We make wry jokes about Congress being "Israeli-occupied territory." Jason Vest in The Nation magazine reported forthrightly that some of the think tanks that hold sway over Bush administration thinking see no difference between U.S. and Israeli national security interests. But we never pronounce the particular words that best describe the real meaning of those observations and wry remarks. It's time, however, that we say the words out loud and deal with what they really signify.
Dual loyalties. The issue we are dealing with in the Bush administration is dual loyalties-the double allegiance of those myriad officials at high and middle levels who cannot distinguish U.S. interests from Israeli interests, who baldly promote the supposed identity of interests between the United States and Israel, who spent their early careers giving policy advice to right-wing Israeli governments and now give the identical advice to a right-wing U.S. government, and who, one suspects, are so wrapped up in their concern for the fate of Israel that they honestly do not know whether their own passion about advancing the U.S. imperium is motivated primarily by America-first patriotism or is governed first and foremost by a desire to secure Israel's safety and predominance in the Middle East through the advancement of the U.S. imperium.
"Dual loyalties" has always been one of those red flags posted around the subject of Israel and the Arab-Israeli conflict, something that induces horrified gasps and rapid heartbeats because of its implication of Jewish disloyalty to the United States and the common assumption that anyone who would speak such a canard is ipso facto an anti-Semite. (We have a Jewish friend who is not bothered by the term in the least, who believes that U.S. and Israeli interests should be identical and sees it as perfectly natural for American Jews to feel as much loyalty to Israel as they do to the United States. But this is clearly not the usual reaction when the subject of dual loyalties arises.)
Although much has been written about the neo-cons who dot the Bush administration, their ties to Israel have generally been treated very gingerly. Although much has come to light recently about the fact that ridding Iraq both of its leader and of its weapons inventory has been on the neo-con agenda since long before there was a Bush administration, little has been said about the link between this goal and the neo-cons' overriding desire to provide greater security for Israel. But an examination of the cast of characters in Bush administration policymaking circles reveals a startlingly pervasive network of pro-Israel activists, and an examination of the neo-cons' voluminous written record shows that Israel comes up constantly as a neo-con reference point, always mentioned with the United States as the beneficiary of a recommended policy, always linked with the United States when national interests are at issue.
The Neoconservatives, the War on Iraq, and the National Interest of Israel
Stephen J. Sniegoski - "While the Iraq war was harmful to US interests, Israel benefited for the very reason that the United States had become bellicose toward Israel's enemies. Moreover, the internecine warfare among Israel's enemies is taking the heat off Israel both in military and diplomatic terms. In the ongoing conflicts, the fate of the Palestinians has been pushed to the background." more
Neocons Who Brought You The Iraq War Endorse AIPAC's Iran Bill
Jim Lobe - The neoconservative Foreign Policy Initiative (FPI), the successor organization of the Project for the New American Century (PNAC), published an open letter to Congressional leaders that implicitly endorses what the Nuclear Weapon Free Iran Act of 2013 (S. 1881). This letter — like PNAC, FPI is essentially a "letterhead organization" that issues manifestos, rather than a real think tank or grassroots membership organization — was signed by 72 "former U.S. government officials and foreign policy experts," the vast majority of whom are easily identified as neoconservatives. more
9/11: a Wilderness of Mirrors and the Prince of Darkness
Mark H. Gaffney - On September 11, 2001 we Americans witnessed what I suggest was the calculated use of terror to traumatize our nation in order to impose a neoconservative political agenda that has been a disaster for the whole world, especially the Mideast. more
Neo-Conservatives And The Israeli Lobby Are Promoting War With Iran, As They Did With Iraq
Allan C. Brownfeld - Neo-conservatives, together with other elements of the Israeli lobby, the same people who successfully pushed the nation to war with Iraq, a country which never attacked us and never possessed the Bush administration's claimed "weapons of mass destruction," are now promoting war with Iran—-a country more than three times the size of Iraq. more
Thoughts on the Attempted Murder of Palestine: The Siren Song of Elliott Abrams
Kathleen Christison, Counter Punch - "Coup" is the word being widely used to describe what happened in Gaza in June when Hamas militias defeated the armed security forces of Fatah and chased them out of Gaza. But, as so often with the manipulative language used in the conflict between the Palestinians and Israel, the terminology here is backward. Hamas was the legally constituted, democratically elected government of the Palestinians, so in the first place Hamas did not stage a coup but rather was the target of a coup planned against it. Furthermore, the coup -- which failed in Gaza but succeeded overall when Palestinian Authority President Mahmoud Abbas, acting in violation of Palestinian law, cut Gaza adrift, unseated the Palestinian unity government headed by Hamas, and named a new prime minister and cabinet -- was the handiwork of the United States and Israel. more
The Gaza Bombshell
David Rose, Vanity Fair - After failing to anticipate Hamas's victory over Fatah in the 2006 Palestinian election, the White House cooked up yet another scandalously covert and self-defeating Middle East debacle: part Iran-contra, part Bay of Pigs. With confidential documents, corroborated by outraged former and current U.S. officials, David Rose reveals how President Bush, Condoleezza Rice, and Deputy National-Security Adviser Elliott Abrams backed an armed force under Fatah strongman Muhammad Dahlan, touching off a bloody civil war in Gaza and leaving Hamas stronger than ever more
Neocons Shaken, But Not Deterred
Jim Lobe, IPS News- Almost exactly five years after it reached its zenith with the invasion of Iraq, the influence of neo-conservatives has waned sharply in Washington, as their nemeses, the "realists" in the national security bureaucracy, have increasingly asserted control over U.S. foreign policy. more
See No Evil: The Teflon Alliance with Israel
Kathleen and Bill Christison in CounterPunch- Two recent offhand comments, both widely publicized, have seriously undermined whatever progress might have been made in exposing the fact that the Iraq war was initiated at least in large part to guarantee Israel's safety and regional dominance in the Middle East. more
Profile: Elliott Abrams
International Relations Center - Shortly after the United States agreed in early 2007 to a deal with North Korea aimed at shutting down Kim Jong Il's nuclear weapons program, part of which included taking Pyongyang off Washington's list of state sponsors of terrorism, Deputy National Security Adviser Elliott Abrams sent a series of e-mails to administration officials deriding the agreement. According to the Washington Post, Abrams expressed "bewilderment over the agreement and [demanded] to know why North Korea would not have to first prove it had stopped sponsoring terrorism before being rewarded with removal from the list, according to officials who reviewed the messages." more
The new Pentagon papers
Karen Kwiatkowski in Salon.com - A high-ranking military officer reveals how Defense Department extremists suppressed information and twisted the truth to drive the country to war. more
Iraq, Iran, and the Lobby: Four years after the invasion of Iraq, and the War Party is still in the driver's seat
Justin Raimondo in AntiWar.com - It wasn't supposed to be like this: we weren't supposed to be "celebrating" the fourth anniversary of the U.S. invasion and occupation of Iraq. It was going to be a "cakewalk," the Iraqis would rise up and shower us with rose petals, and Johnny would come marching home in no time. Remember? Besides that, the whole deal would be cost-free, you see, because the revived Iraqi oil industry, no longer under sanctions, would pay the costs of the war. Or so Paul Wolfowitz assured us. more
The Chomsky/Blankfort Polemic
Reprinted from Signs of the Times - Journalist Silvia Cattori interviewed Jewish photojournalist Jeffrey Blankfort. Blankfort describes his research into the major factors determining US Middle East policy. more
Iraq, Palestine, and the Israel Lobby
Mazin Qumsiyeh & Jeffrey Blankfort - "Connecting the dots," by Former Yale Professor Mazin Qumsiyeh; and "The Debate that Never Happened," by Mideast analyst Jeffrey Blankfort, co-founder of the Labor Committee on the Middle East. more
A War for Israel
Jeffrey Blankfort in Left Curve - When Malaysian Prime Minister Mathahir Mohammed declared at an international Islamic Conference in Kuala Lumpur in mid-October, 2003 that "today the Jews rule the world by proxy [and] They get others to fight and die for them," the reactions in the U.S. and the West were predictable. more
The Cult That's Running the Country
Joseph Wilson in Salon.com - Joseph Wilson blasts the secretive neoconservative cabal that plunged America into a disastrous war, in this excerpt from his new book. more
On to Iran: Won't Get Fooled Again?
Paul Craig Roberts in CounterPunch - It is not yet Bush's second term. All available US troops are tied down in Iraq by a few thousand lightly armed insurgents. Go-it-alone Bush has isolated America from her allies. And the neocons want to spread their war to Iran. more
Serving Two Flags: Neo-Cons, Israel and the Bush Administration
Stephen Green in CounterPunch - Since 9-11, a small group of "neo-conservatives" in the Administration have effectively gutted—they would say reformed—traditional American foreign and security policy. Notable features of the new Bush doctrine include the pre-emptive use of unilateral force, and the undermining of the United Nations and the principle instruments and institutions of international law....all in the cause of fighting terrorism and promoting homeland security. more
Watch an interview with Karen Kwiatkowski
Saul Landau on Hot Talk - Interview with the retired U.S. Air Force Lt. Col. discusses policy decisions leading to the Iraq war.
Part I: In Rumsfeld's Shop
Karen Kwiatkowski in The American Conservative - Lt. Col. Karen Kwiatkowski recently retired from the U.S. Air Force. Her final posting was as an analyst at the Pentagon. Following is the first of three installments describing her experience there. They provide a unique view of the Department of Defense during a period of intense ideological upheaval, as the United States prepared to launch—for the first time in its history—a "preventive" war. more
Part II: Conscientious Objector
A senior Air Force officer watches civilians craft the war plan.
Part III: Open Door Policy
A strange thing happened on the way to the war.
How Neo-cons Influence the pentagon
Jim Lobe in the Asia Times - An ad hoc office under US Undersecretary of Defense for Policy Douglas Feith appears to have acted as the key base for an informal network of mostly neo-conservative political appointees that circumvented normal inter-agency channels to lead the push for war against Iraq. more
A Costly Friendship
Patrick Seale in The Nation - Much of the talk in Europe these days is about how the United States and Britain were conned into going to war against Iraq, or perhaps how they conned the rest of us into believing that they had good reasons for doing so. It is now widely suspected that the war was a fraud, but who perpetuated the fraud and on whom? Everyone agrees that Saddam Hussein was a monster, but the military invasion to depose him is seen by many, and certainly on this side of the Atlantic, as illegitimate and unprovoked, and a blatant violation of the UN Charter, setting an unfortunate precedent in international relations. Henceforth, in the jungle, only might is right. more
Career Officer Does Eye-Opening Stint Inside Pentagon
Karen Kwiatkowski in Akron Beacon Journal - What I saw was aberrant, pervasive and contrary to good order and discipline. If one is seeking the answers to why peculiar bits of "intelligence" found sanctity in a presidential speech, or why the post-Hussein occupation has been distinguished by confusion and false steps, one need look no further than the process inside the Office of the Secretary of Defense. more
The Weird Men Behind George W. Bush's War
Michael Lind in the New Statesman (London) - America's allies and enemies alike are baffled. What is going on in the United States? Who is making foreign policy? And what are they trying to achieve? Quasi-Marxist explanations involving big oil or American capitalism are mistaken. Yes, American oil companies and contractors will accept the spoils of the kill in Iraq. But the oil business, with its Arabist bias, did not push for this war any more than it supports the Bush administration's close alliance with Ariel Sharon. more
White Man's Burden
Ari Shavit in Ha'aretz (Israel) - The war in Iraq was conceived by 25 neoconservative intellectuals, most of them Jewish, who are pushing President Bush to change the course of history. more
"A New Pearl Harbor"
John Pilger in the New Statesman (London) - Two years ago a project set up by the men who now surround George W Bush said what America needed was "a new Pearl Harbor." Its published aims have, alarmingly, come true. more
A Rose by Another Name: The Bush Administration's Dual Loyalties
Kathleen and Bill Christison in CounterPunch - Since the long-forgotten days when the State Department's Middle East policy was run by a group of so-called Arabists, U.S. policy on Israel and the Arab world has increasingly become the purview of officials well known for tilting toward Israel. Policymaking circles throughout government now no longer even make a pretense of exhibiting balance between Israeli and Arab, particularly Palestinian, interests. more
Too Many Smoking Guns to Ignore: Israel, American Jews, and the War on Iraq
Bill and Kathleen Christison in CounterPunch - Bill and Kathleen Christison compiled a number of quotations directly from neoconservative policy planners in the U.S. government and Israeli officials as evidence of Israeli complicity in the Iraq war. more
Israel-Palestine Timeline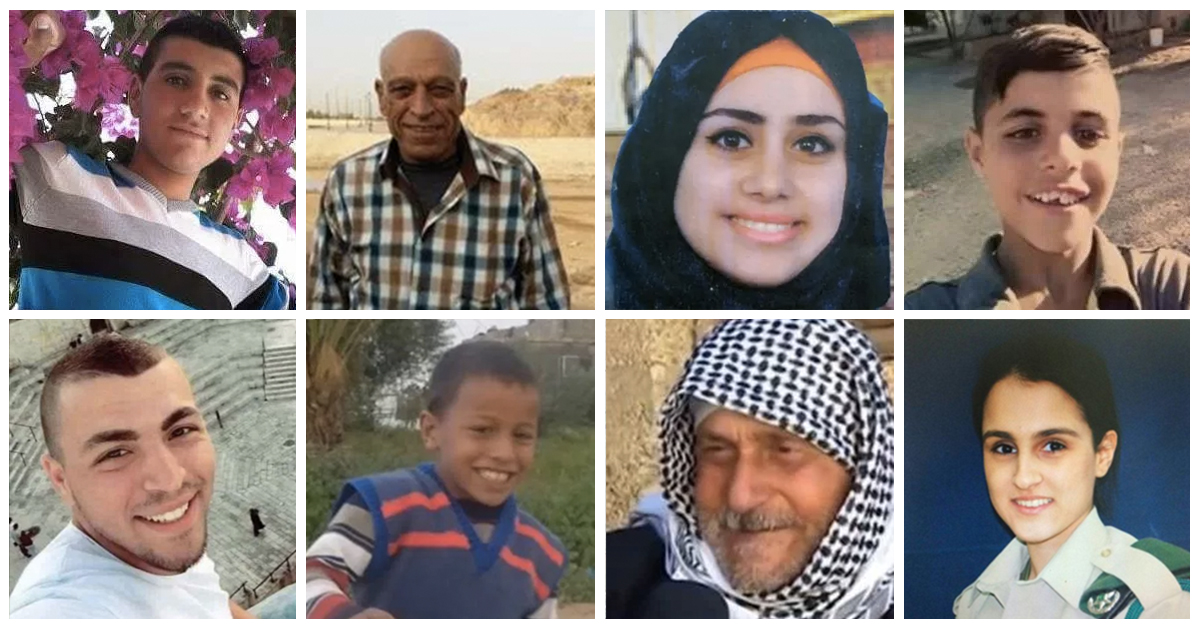 Israel-Palestine Timeline: The human cost of the conflict records photos and information for each person who has been killed in the ongoing violence.
History of the Israel Lobby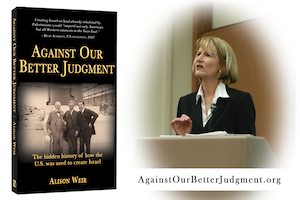 Alison Weir's book Against Our Better Judgement: How the U.S. was used to create Israel brings together meticulously sourced evidence to outline the largely unknown history of U.S.-Israel relations.
Buy it on Amazon, and visit the book website for reviews, more ordering options, and upcoming author events.
---
Stay Informed
Sign up for our mailing list and receive an email whenever we post a new article on our news site, Israel-Palestine News.