Israel's Wars
Critical Connections: Egypt, the US, and the Israel Lobby
Alison Weir, CounterPunch & Antiwar.com - Minimally explored in all the coverage of the momentous Egyptian uprising taking place over the last 10 days [Jan-Feb 2011] are the Israeli connections. more
Statehood and Expulsion: 1948 War
The Origin of the Palestine-Israel Conflict - In 1947, the UN partitioned the land of Palestine, giving much of the land to Zionists for a Jewish state, despite the fact that they only owned a tiny fraction of the land. Zionists massacred and expelled three-quarters of a million Palestinians in the resulting war. more
The 50s: Unit 101, Qibya, the Lavon Affair, the 1956 Suez War
Ron David, Arabs and Israel for Beginners - Moshe Dayan, head of the Operations Dept. of Israel's Army, decided that his army was getting sloppy, "lowering its fighting standards." Dayan, who recognized talent when he saw it, knew that Ariel Sharon was exactly what the IDF (Israeli Defense Forces) needed. Ariel Sharon formed a special commando force. Unit 101. Unit 101 specialized in night raids and phony "reprisal raids." General Dayan had said that Israel must "invent dangers" and "adopt the method of provocation and revenge." So, Sharon, who was a quick learner, had his men provoke neighboring Arabs into doing something petty, then used that as an excuse to sneak across the border at night and kill a few Arabs. more
Israel Honors Egyptian Spies 50 Years After Fiasco
Reuters, Haaretz - After half a century of reticence and recrimination, Israel on Wednesday honored nine Egyptian Jews recruited as agents-provocateur in what became one of the worst intelligence bungles in the country's history. more
A History Lesson for Obama: Eisenhower's Example
Henry Norr, Palestine Chronicle - With President Obama's Middle East peace plans so completely -- and humiliatingly -- shipwrecked on the rocks of Israeli intransigence, it's time for him to consider a new approach ... I suggest he look to the way Dwight D. Eisenhower handled a similar predicament a half-century ago. more
The 1967 War and the Israeli Occupation of the West Bank and Gaza
The Origin of the Palestine-Israel Conflict - In 1967, Israel again decided to attack its neighbors. In this war of conquest, Israel occupied the West Bank, Gaza, and parts of Syria and Egypt. more
1973 War: (Known in Israel as the Yom Kippur War)
The Origin of the Palestine-Israel Conflict - Egypt and Syria continued to demand the return of the land taken by Israel in 1967. However, attempts at diplomacy failed, and eventually Egyptian President Anwar Sadat warned that war would come if Israel did not return Egypt's Sinai Peninsula and Syria's Golan Heights. But Kissinger and the Israelis dismissed him, as did the US media. more
Sabra & Shatilla Massacres
Robert Fisk, The Independent - This is a place of filth and blood which will forever be associated with Ariel Sharon. In Israel today, he may well be elected prime minister. Then he will be master of the most powerful nation in the Middle East; he will travel to America, he will visit the White House and shake hands with President George W Bush. But for everyone who stood in the Sabra and Chatila refugee camps in Beirut on 18 September 1982, his name is synonymous with butchery; with bloated corpses and disembowelled women and dead babies, with rape and pillage and murder... more
Sabra & Shatilla Massacres
Robert Fisk, The Independent - This is a place of filth and blood which will forever be associated with Ariel Sharon. In Israel today, he may well be elected prime minister. Then he will be master of the most powerful nation in the Middle East; he will travel to America, he will visit the White House and shake hands with President George W Bush. But for everyone who stood in the Sabra and Chatila refugee camps in Beirut on 18 September 1982, his name is synonymous with butchery; with bloated corpses and disembowelled women and dead babies, with rape and pillage and murder... more
The First Intifada
Ma'an News Fact Sheet - The First Intifada was a grassroots uprising against Israel's occupation of the West Bank, Gaza Strip and East Jerusalem. Intifada is an Arabic word for "civil uprising" that literally means "shaking off." more
Israel-Palestine Timeline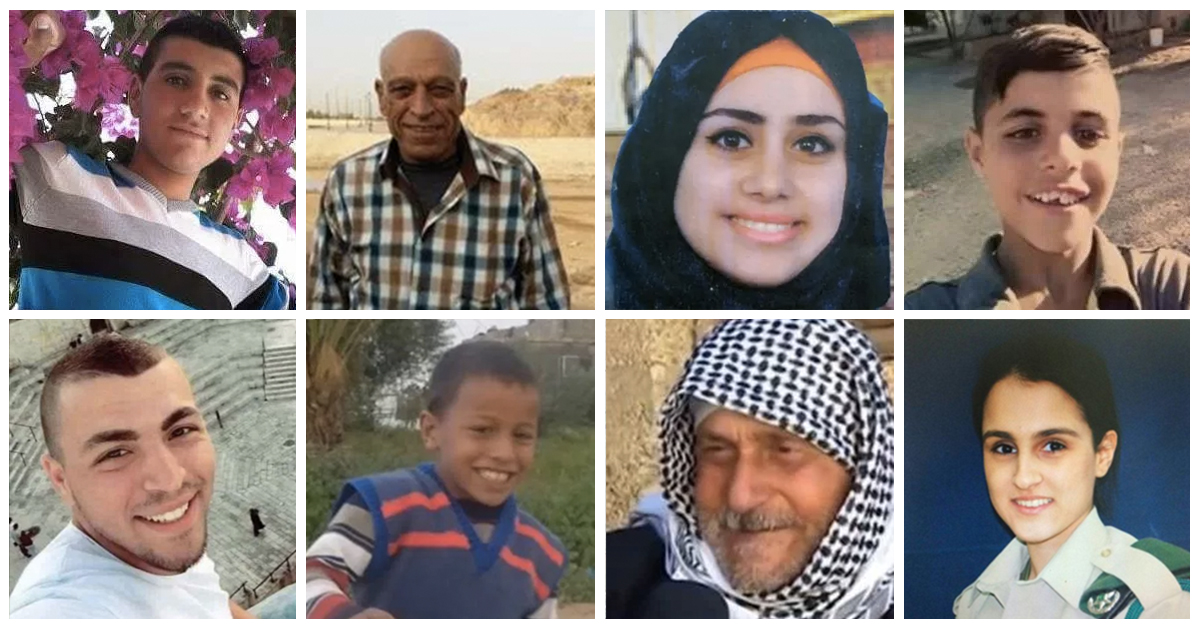 Israel-Palestine Timeline: The human cost of the conflict records photos and information for each person who has been killed in the ongoing violence.
History of the Israel Lobby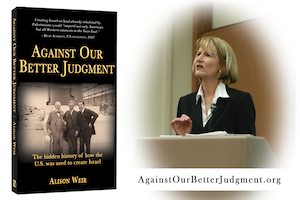 Alison Weir's book Against Our Better Judgement: How the U.S. was used to create Israel brings together meticulously sourced evidence to outline the largely unknown history of U.S.-Israel relations.
Buy it on Amazon, and visit the book website for reviews, more ordering options, and upcoming author events.
---