A Jewish State
"WE, the members of the National Council, representing the Jewish people in Palestine and the Zionist movement of the world...
"HEREBY PROCLAIM the establishment of the Jewish State in Palestine, to be called ISRAEL."
– Declaration of the State of Israel, May 14 1948
"Despite the steady arrival in Palestine of Jewish colonists after 1882, it is important to realize that not until the few weeks immediately preceding the establishment of Israel in the spring of 1948 was there ever anything other than a huge Arab majority."
– Edward Said, The Question of Palestine.
The Parushim: A Secret Episode in American Zionist History
Sarah Schmidt, American Jewish Historical Quarterly - Horace M. Kallen, the social philosopher best known in American intellectual history for his theory of cultural pluralism, adopted Zionism in 1903 as a secular mode of retaining Jewish identity, an alternative to the Jewish religious tradition which seemed to him to be incompatible with twentieth century America. more
The Real Story of How Israel Was Created
Alison Weir, AntiWar.com & CounterPunch - To better understand the Palestinian bid for membership in the United Nations, it is important to understand the original 1947 UN action on Israel-Palestine. The common representation of Israel's birth is that the UN created Israel, that the world was in favor of this move, and that the US governmental establishment supported it. All these assumptions are demonstrably incorrect. more
Draft Israeli Bill Would Ban Commemoration of Nakba
Tobias Buck, Financial Times - The draft bill would make it a criminal offence – punishable by up to three years in prison – for Israeli citizens to mark the "Nakba". The term means catastrophe, and is used by Palestinians to describe the year of Israel's foundation, when between 700,000 and 800,000 of them fled or were expelled by advancing Israeli troops. It is commemorated every year on May 15, and involves demonstrations and marches to destroyed Palestinian villages inside Israel. more
Nakba - Not a Dirty Word
Amaya Galili, YNet, Translation from Hebrew: Charles Kamen, JVoices.com - "Where will you be for the holiday? Are you going to the celebrations in town? To a picnic in the Carmel Forest? It's really beautiful there! Won't you come? Everyone's going." A few years ago I would have joined them; a picnic out in the country – what could be wrong with that? But something changed. People around me are celebrating, but I'm not. more
Israeli Palestinians: The Unwanted Who Stayed
Jonathan Cook, The Link - Among the images of Israel's 60th Independence Day celebrations to be found on the internet is a photograph of CNN reporter Ben Wedeman being kicked firmly on the behind as he tries to run from the boot of an armed policeman. All around him, as other photographs reveal, journalists are fleeing for safety, families are being charged by mounted police, and parents can be seen grabbing toddlers as clouds of tear gas engulf them. The stragglers are shown with bloodied faces after a beating with police batons. more
The Death of Samir Dari
Neve Gordon and Yigal Bronner in the Dissident Voice - Almost a year and a half has passed since our friend Samir Dari was gunned down by an Israeli policeman. Samir, an Israeli resident and father of two, approached a group of policemen who had just detained his brother on a street corner not far away from his house and demanded the latter's release. There are conflicting versions about how the events unfolded, but there is no dispute about the following facts: Samir was unarmed and the policeman Shmuel Yechezkel shot him from close range in the back. more
Witness for the Defenseless
Anna Baltzer in The Link - Every time I think I have understood the Israel/Palestine conflict, something will remind me how much more I have to learn. My first breakthrough came during a trip to southern Lebanon, where for the first time I heard a narrative about the state of Israel altogether different from the one I had learned growing up as a Jewish American. more
What 'Israel's right to exist' means to Palestinians
John V. Whitbeck, Christian Science Monitor - Since the Palestinian elections in 2006, Israel and much of the West have asserted that the principal obstacle to any progress toward Israeli-Palestinian peace is the refusal of Hamas to "recognize Israel," or to "recognize Israel's existence," or to "recognize Israel's right to exist." more
Commentary: Why does The Times recognize Israel's 'right to exist'?
Saree Makdisi, Los Angeles Times - 'AS SOON AS certain topics are raised," George Orwell once wrote, "the concrete melts into the abstract and no one seems able to think of turns of speech that are not hackneyed: Prose consists less and less of words chosen for the sake of their meaning, and more and more of phrases tacked together like the sections of a prefabricated henhouse." Such a combination of vagueness and sheer incompetence in language, Orwell warned, leads to political conformity. more
We didn't disappear: the Struggle for Equality Inside Israel
Jonathan Cook in Al-Ahram Weekly - The official political leadership of Israel's more than one million Palestinian citizens issued a manifesto in Nazareth last week demanding a raft of changes to end the systematic discrimination exercised against non-Jews by the state since its creation nearly six decades ago. more
Demographic Trends in Palestine
Nizar Sakhnini - Maintaining Jewish majority is a basic criterion of the Zionist project. Palestine, however, was not an empty desert. Accordingly, creation of a Jewish State with a Jewish majority required two processes: importing Jews from all corners of the world to Palestine and dispossession and ethnic cleansing for the indigenous population. more
Racism by Any Other Name
Yitzhak Laor in Haaretz - It was announced this week that the government plans to stiffen the rules for granting citizenship to non-Jews, through amendments to the law that make it difficult to grant legal status to Palestinians and other foreigners married to Israeli citizens. more
A Short History of Apartheid
Dr. Azmi Bishara in AMIN - Rhetoric about demography so dominates Israel's political discourse that one might be tempted to assume that Israel has abandoned its preferred designation as the Jewish democratic state in favour of the Jewish demographic state. more
Injustice and Stupidity in Jerusalem
Haaretz - In July 2004, Israel's cabinet adopted a decision that was neither made public nor even published in the official government gazette, Reshumot: to apply the Absentee Property Law to East Jerusalem, and thereby to confiscate thousands of dunams of land from owners who live in the West Bank. The reason for the decision was security-related: Since in practice, West Bank residents are barred from entering East Jerusalem because of the intifada, the cabinet decided to enact an official measure that would prevent any use of these lands by their owners in the future as well, and would explicitly state that henceforth their property belongs to the State of Israel. more
Israeli government decision aims to strip Palestinians of their properties in East Jerusalem
Meron Rappaport in Haaretz - The Sharon government implemented the Absentee Property Law in East Jerusalem last July, contrary to Israeli government policy, since Israeli law was extended to East Jerusalem after the Six Day War. The law means that thousands of Palestinians who live in the West Bank will lose ownership of their property in East Jerusalem. more
Border Policeman gets 14 months jail for abusing Palestinians
Yuval Yoaz in Haaretz - Border Policeman Nir Levy was convicted by Jerusalem Magistrate's Court on Thursday in the aggravated assault and abuse of a helpless Palestinian civilian. more
'Racist' Bill Raises Storm in Israel's Knesset
Gideon Alon in Haaretz - A furor erupted October 11, 2004 in the Israeli parliament when the presidium agreed to allow a National Union MK to introduce a draft law perceived as being racist. more
'Speak Hebrew or shut up'
Etgar Keret in the UK Guardian - Israel's official code of ethics says troops can only use force if threatened. But at a checkpoint near Nablus, Israeli author Etgar Keret witnessed another code of behaviour in operation... more
Separation Spells Racism
Azmi Bishara in Al Ahram Weekly - Polls confirm time and again the racism rooted deep within Israeli society. The struggle for Palestinian rights, therefore, has always been universal. more
Genocide By Public Policy
Sam Bahour and Michael Dahan in AMIN - Many words are taboo when used to describe Israel's actions against Palestinians. One word in specific, genocide, sparks emotions that echo across Israel, Europe and America. The Merriam-Webster Dictionary defines genocide as "the deliberate and systematic destruction of a racial, political, or cultural group." What is happening in the West Bank, East Jerusalem and the Gaza Strip today is dangerously encroaching on genocide, close enough so that the pictures of Palestinians in Rafah loading their meager belongings on carts and evacuating their homes are too reminiscent of another time, another place and another people. more
Social, Economic and Political Status of Arab Citizens of Israel
Mossawa, The Advocacy Center for Arab Citizens in Israel - This report will highlight the social, economic, and political status of the Arab citizens of Israel. It will sketch an outline of the numerous challenges facing Arabs on a daily basis, including the issues of citizenship, religious and cultural rights, housing and planning issues, socioeconomic status, women's status, discrimination in governmental funding, political participation, and human rights. more
A Jew Among 25,000 Muslims
Jonathan Cook in the UK Guardian - Even as a young girl in Wimbledon Susan Nathan knew she would one day move to Israel. But why did she choose to settle in the Arab town of Tamra? more
Pursuing the Millennium: Jewish Fundamentalism in Israel
David Hirst in The Nation - In the minds of many Westerners, Muslim fundamentalism has replaced communism as perhaps the greatest single "threat" to the existing world order. From this perspective the Palestinian intifada becomes just another episode in a "clash of civilizations." For them, there is an intrinsic link between Palestinian "terrorism" and, say, the al-Qaeda bombing of an American warship off Yemen. Almost totally absent from such arguments is any inclination to examine Jewish fundamentalism, or so much as to ask whether it, too, might be a factor in the conflict over Palestine, one of the reasons why it seems so insoluble. more
Love and Marriage in Israel: Palestinian and Non-Orthodox Israelis Need Not Apply
Suraya Dadoo in the Washington Report on Middle East Affairs - In February of last year, Gili and Sagi, a young Israeli couple, were "married" at sea—a marriage not legally recognized by the State of Israel. Although both are Jewish, the couple objected to the only marriage option open to them in Israel: an Orthodox Jewish ceremony. Instead, they chose a marriage contract they drew up together with a lawyer, thus rendering their union illegal. On the other side of the divide, Aneesa, an Arab Israeli who holds a Jerusalem ID, married a Jordanian three years ago. "Because he also carries a Gaza identity card, he is not allowed in Jerusalem," said Aneesa. "Forget getting his own Jerusalem ID—he is not even allowed to visit here." She cannot remember the last time she saw her husband. more
Israel-Palestine Timeline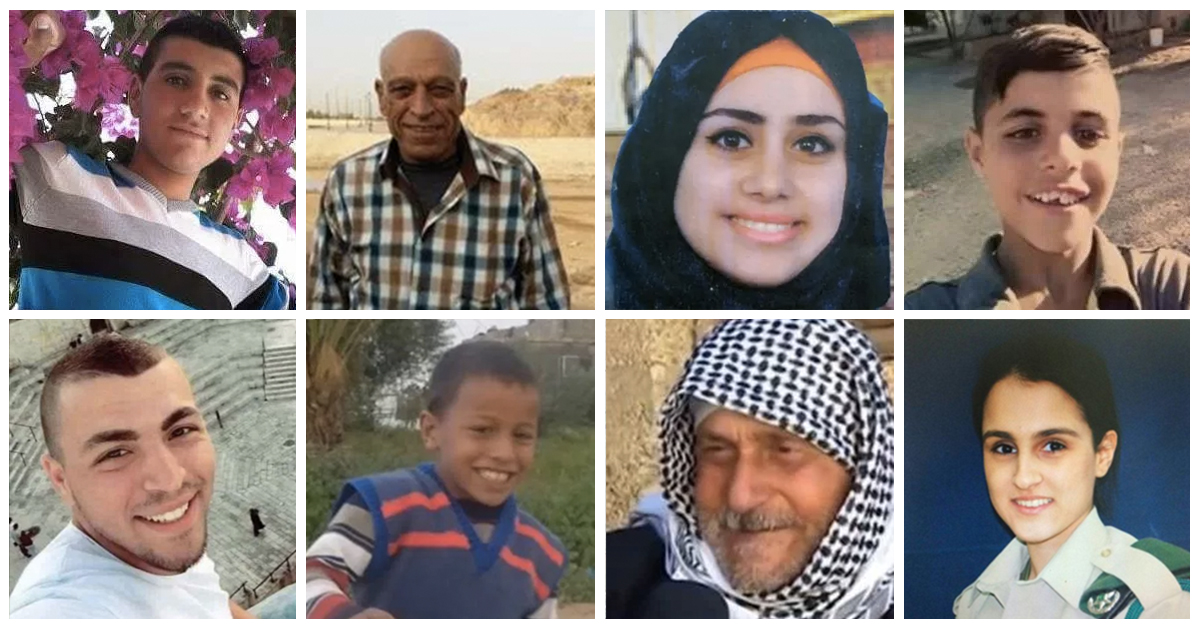 Israel-Palestine Timeline: The human cost of the conflict records photos and information for each person who has been killed in the ongoing violence.
History of the Israel Lobby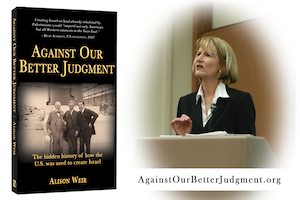 Alison Weir's book Against Our Better Judgement: How the U.S. was used to create Israel brings together meticulously sourced evidence to outline the largely unknown history of U.S.-Israel relations.
Buy it on Amazon, and visit the book website for reviews, more ordering options, and upcoming author events.
---
Stay Informed
Sign up for our mailing list and receive an email whenever we post a new article on our news site, Israel-Palestine News.