This section contains analyses and descriptions of U.S. policy toward the Israelis and Palestinians.
Palestine's Quislings: A Hand in the Till Not on the Tiller
Phillip Giraldi - One might well wonder why it has been so difficult to create a Palestinian State of some kind, a development that would seem to be in nearly everyone's interest and which would also impact on many related issues, to include international terrorism, instability in Lebanon and Syria, Iran, and even Arab democracy. The reason is, of course, simple, involving Israeli unwillingness to permit such a state to come into existence coupled with the United States role as an enabler of Israel. So the peace process spins on and on. more
House Stealthily Passes Extreme Pro-Israel Legislation
Phillip Giraldi - H.R. 4133, the United States-Israel Enhanced Security Cooperation Act of 2012, provides Israel with a blank check drawn on the U.S. taxpayer to maintain its "qualitative military edge" over all of its neighbors combined and requires the White House to prepare an annual report on how that superiority is being maintained. more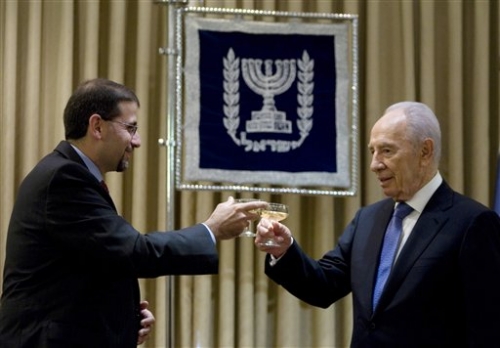 US Ambassador: Support for Israel drives all US policies
Alison Weir, Antiwar.com & CounterPunch - While many Americans may believe that US policies are designed to address American needs, America's new Ambassador to Israel explains that this is far from the case. more
A History Lesson for Obama
Henry Norr, Palestine Chronicle - With President Obama's Middle East peace plans so completely -- and humiliatingly -- shipwrecked on the rocks of Israeli intransigence, it's time for him to consider a new approach, at least if he's serious about his announced objectives. In the spirit of bipartisanship that he's so dedicated to, I suggest he look to the way Dwight D. Eisenhower handled a similar predicament a half-century ago. more
Obama Administration Takes from American Farmers, Gives to Israel
Alison Weir - At a time of financial crisis in the United States in which thousands of Americans have lost their jobs and homes, an Israeli news service reports that President Obama has just signed a presidential memo eliminating a tariff on Israel that protected American dairy farmers and that raised money for the American economy. more
Is the US-Israel Free Trade Agreement Harming America? Myths Versus Facts
IRMEP Press Release, Forbes.com - The US-Israel Free Trade Area (UIFTA) became law in 1985, but ongoing violations of American intellectual property rights and trade laws are fueling heavy losses of American jobs. As the US economy declines many are trying to separate myths from facts about America's first bilateral trade agreement. more
Commentary: Saving Lives by Saving Money
Alison Weir, The Gilmer Mirror - Imagine you could help people abroad by keeping your money home. Imagine you could help bring peace to the Middle East, build a safer world and alleviate massive misery. Imagine you could begin to eliminate the requirement for long airport lines, the justification for frisking old ladies, the alleged need to discard our most cherished principles in a quest for 'security' against an ill-defined enemy. more
Support for Israel Feeds Terrorism: Cheney Breaks the Taboo
Ray McGovern, CounterPunch - If we hear in the coming days that former Vice President Dick Cheney has fired one of his speechwriters – or perhaps grounded Lynne or Liz – it will be clear why. Oozing out of the sleazy speech he gave Thursday at the American Enterprise Institute was an inadvertent truth regarding the Israeli albatross hanging around the neck of U.S. policy in the Middle East. more
As US arms shipment reaches Israel, President Obama urged to halt further exports
Amnesty International - The new delivery to Israel of a massive consignment of US munitions, revealed by Amnesty International today, throws into question whether President Obama will act to prevent the US fuelling further Israeli attacks against civilians that may amount to war crimes, as were perpetrated in Gaza. more
Obama and the Jews
Pauline Dubkin Yearwood, The Chicago Jewish News - A look at why some Jews love him and some don't trust him; and at the key role Chicago Jews played in getting him to where he is. more
The Irresponsibility of Appointing Hillary Clinton Secretary of State
Bill and Kathleen Christison, CounterPunch - In 2005 Hillary Clinton stood in Palestine and praised the apartheid wall that the government of Israel was building with large amounts of U.S. aid in furtherance of the Zionist goal of destroying one of the world's peoples – the Palestinians. This is the wall that the United Nations' World Court has declared contrary to international law. And this is just one example of Hillary Clinton's total support for all of Israel's policies to oppress and eventually expel whatever elements of the Palestinian population remain west of the Jordan River. more
Israel fears scathing U.S. report on its West Bank policies
Amos Harel and Avi Issacharoff, Haaretz - The United States security coordinator for the Israeli-Palestinian conflict, retired general James Jones, is preparing an extremely critical report of Israel's policies in the territories and its attitude toward the Palestinian Authority's security services. more
Iraq War Deepens Hostility to U.S. Policies in Arab World, Surveys Find
Jim Lobe, OneWorld US - Anti-American sentiment - based primarily on U.S. policies, rather than on its values - has risen to new heights in the Arab world, according to two new surveys conducted in May in six countries, all of whose governments have been closely allied with Washington for at least several decades. more
American Ambassador Recalls Israeli Assassination Attempt—With U.S. Weapons
Andrew I. Killgore, Washington Report on Middle East Affairs - Just before John Gunther Dean was to appear before the Senate Foreign Relations Committee for his confirmation hearing as American ambassador to Lebanon in 1978 he received an urgent telephone call from the office of the secretary of state. "John," the caller said, "we have just noticed that your mother's [maiden] name is Ashkenaczi. Does this make a serious problem for you?" "Absolutely not," the near legendary Dean replied, "my father was Jewish, too. I represent a secular America, so that's all there is to it." more
The Gaza Bombshell
David Rose, Vanity Fair - After failing to anticipate Hamas's victory over Fatah in the 2006 Palestinian election, the White House cooked up yet another scandalously covert and self-defeating Middle East debacle: part Iran-contra, part Bay of Pigs. With confidential documents, corroborated by outraged former and current U.S. officials, David Rose reveals how President Bush, Condoleezza Rice, and Deputy National-Security Adviser Elliott Abrams backed an armed force under Fatah strongman Muhammad Dahlan, touching off a bloody civil war in Gaza and leaving Hamas stronger than ever more
U.S. too often follows Israel's lead in diplomatic situations
Paul Findley, Iowa Press-Citizen - There is an open secret in Washington. I learned it well during my 22-year tenure as a member of the U.S. House of Representatives. All members swear to serve the interests of the United States, but there is an unwritten and overwhelming exception: The interests of one small foreign country almost always trump U.S. interests. That nation of course is Israel. more
Divide and Rule, Israeli-Style
Jonathan Cook in CounterPunch – The boycott by Israel and the international community of the Palestinian Authority finally blew up in their faces with Hamas' recent bloody takeover of Gaza. Or so argues Gideon Levy, one of the saner voices still to be found in Israel. "Starving, drying up and blocking aid do not sear the consciousness and do not weaken political movements. On the contrary Reality has refuted the chorus of experts and commentators who preached [on] behalf of the boycott policy. This daft notion that it is possible to topple an elected government by applying pressure on a helpless population suffered a complete failure." But has Levy got it wrong? more
A setback for the Bush doctrine in Gaza
Ali Abunimah in The Electronic Intifada – The dramatic rout of the US and Israeli-backed Palestinian militias in Gaza by forces loyal to Hamas represents a major setback to the Bush doctrine in Palestine. more
The American proxy war in Gaza
Ali Abunimah in The Electronic Intifada – In recent days the unremitting, murderous brutality of the Israeli occupation has been eclipsed by the carnage in Gaza as dozens of Palestinians have been killed in what is commonly referred to as "interfactional fighting" between forces loyal to Palestinian Authority chairman Mahmoud Abbas and his Fatah faction on the one hand, and the Hamas-led government on the other. more
Emanuel's War Plan for Democrats: The Book of Rahm
John Walsh in CounterPunch - Last week in CounterPunch, I wrote that the chair of the Democratic Congressional Campaign Committee (DCCC), Congressman Rahm Emanuel, had worked hard to guarantee that Democratic candidates in key toss-up House races were pro-war. In this he was largely successful, because of the money he commands and the celebrity politicians who reliably respond to his call, ensuring that 20 of the 22 Democratic candidates in these districts are pro-war. So the fix is in for the coming elections. more
The new Pentagon papers
Karen Kwiatkowski in Salon.com - A high-ranking military officer reveals how Defense Department extremists suppressed information and twisted the truth to drive the country to war. more
Iraq, Iran, and the Lobby: Four years after the invasion of Iraq, and the War Party is still in the driver's seat
Justin Raimondo in AntiWar.com - It wasn't supposed to be like this: we weren't supposed to be "celebrating" the fourth anniversary of the U.S. invasion and occupation of Iraq. It was going to be a "cakewalk," the Iraqis would rise up and shower us with rose petals, and Johnny would come marching home in no time. Remember? Besides that, the whole deal would be cost-free, you see, because the revived Iraqi oil industry, no longer under sanctions, would pay the costs of the war. Or so Paul Wolfowitz assured us. more
The Stability and Value of Israel
Michael Neumann in CounterPunch - Norman Finkelstein ("The Israel Lobby", tries to present a balanced view on the Israel lobby. He succeeds, but that's not all he does. He also offers a set-piece passage proclaiming Israel's value to the United States. Pro-Palestinian writers--and there is no more passionate or impressive defender of the Palestinians than Finkelstein--seem to do this out of reflex, and it's perverse. Finkelstein's claims about Israel's value are just as destructive to the Palestinian cause as any common sense person would suppose. more
The American proxy war in Gaza
Ali Abunimah in The Electronic Intifada - In recent days the unremitting, murderous brutality of the Israeli occupation has been eclipsed by the carnage in Gaza as dozens of Palestinians have been killed in what is commonly referred to as "interfactional fighting" between forces loyal to Palestinian Authority chairman Mahmoud Abbas and his Fatah faction on the one hand, and the Hamas-led government on the other. more
The hidden cost of free congressional trips to Israel
Jim Abourezk in the CS Monitor - Democrats in Congress have moved quickly – and commendably – to strengthen ethics rules. But truly groundbreaking reform was prevented, in part, because of the efforts of the pro-Israel lobby to preserve one of its most critical functions: taking members of Congress on free "educational" trips to Israel. more
Speaking frankly about Israel and Palestine
Jimmy Carter in the Los Angeles Times - I signed a contract with Simon & Schuster two years ago to write a book about the Middle East, based on my personal observations as the Carter Center monitored three elections in Palestine and on my consultations with Israeli political leaders and peace activists. We covered every Palestinian community in 1996, 2005 and 2006, when Yasser Arafat and later Mahmoud Abbas were elected president and members of parliament were chosen. The elections were almost flawless, and turnout was very high – except in East Jerusalem, where, under severe Israeli restraints, only about 2% of registered voters managed to cast ballots. more
Report on Voting Records of Congress members regarding Israel-Palestine
The US Campaign to End the Israeli Occupation, which disseminates information on the Israeli occupation, has compiled a report that catalogues the voting records of Congress members on legislation regarding Israel-Palestine. The interactive report, which it is disseminating to members for free, can be found at: 109th Congressional Report Card (2005-2006). Due to IRS regulations on advocacy, only members of the US Campaign should access the Congressional Report Card. (Members are defined as groups or individuals who contribute more than a nominal amount of time or money to the US Campaign.) If you fit this definition, then you can access the password-protected Congressional Report Card by entering "report" for the user name and "card" for the password. more
US vote may alter stance on Mideast
Matthew E. Berger in The Jerusalem Post - "There will be some Democratic chairmen who may not share all my views or have as clear a perspective on Israel as I do," Rep. Henry Waxman (D-California), a Jewish lawmaker, said in a recent on-line chat with Jewish voters, sponsored by the House Democratic caucus. "But they will not be chairing committees dealing with Israel and the Middle East." more
Carter shares insight on peace in Mideast
Marty Rosen in the Louisville Courier-Journal - Former President Jimmy Carter's new book, "Palestine -- Peace Not Apartheid," reflects a lifetime of contemplation on the Middle East. Mixing memoir and policy, it recounts his youthful fascination with the Holy Lands, his long acquaintance with the political leaders who have shaped the modern history of the Arab and Israeli worlds, and it makes a strong case for renewed debate about the best path to peace in a long-troubled part of the world. In a telephone interview, Carter spoke in detail about the history of the Israeli-Palestinian conflict and his hopes for peace. Here are his unedited responses. more
The Chomsky/Blankfort Polemic
Reprinted from Signs of the Times - Journalist Silvia Cattori interviewed Jewish photojournalist Jeffrey Blankfort. Blankfort describes his research into the major factors determining US Middle East policy. more
Settlements grow on Arab land, despite promises made to U.S.
Amos Harel in Haaretz - A secret, two year investigation by the defense establishment shows that there has been rampant illegal construction in dozens of settlements and in many cases involving privately owned Palestinian properties. more
A problem in American foreign policy: Palestine
John Gunther Dean - In many ways, the Palestine problem is the most pervasive, complex and dangerous problem in American foreign policy. It is also the most difficult to address because it is so deeply embedded in guilt, emotion and fear as to be almost beyond rational thought. Americans, both government officials and private citizens, feel far freer to criticize America, Britain or France without being thought to dislike or oppose the peoples of those countries, but most non-Jews are afraid of being charged with anti-Semitism even if they are only critical of the hard-line policies of former Prime Minister Ariel Sharon. This American attitude is not only demeaning to us Americans but is not helping Israel or Jews elsewhere. Israel is no longer, if it ever was, an international charity. It is a relatively powerful, rich nation-state. It should be analyzed, as its own citizens analyse its actions, in respectful terms. more
Nixon Administration Ignores Saudi Warnings, Bringing On Oil Boycott
Donald Neff in the Washington Report - It was 24 years ago, on Oct. 20, 1973, that Saudi Arabia announced it was imposing a total oil boycott against the United States in retaliation for its support of Israel during the October war. The action caused an economic earthquake around the world. Suddenly Americans and others were forming long lines at gas stations, and the greatest transfer of wealth in world history began. The price of gasoline soared, briefly up tenfold. It was a devastating added cost for governments, corporations and families. more
Study alleges US sets aside own security interest for Israel's
Tom Regan in the Christian Science Monitor - A research paper by two leading American political scientists alleges that the US relationship with Israel is not good for US security, and that the Israeli lobby in the US, particularly the American-Israel Public Affairs Committee, has helped exaggerate to the US media and public the importance of making the protection of Israel a key part of US foreign policy. more
The Israel Lobby
John Mearsheimer and Stephen Walt in the London Review of Books - For the past several decades, and especially since the Six-Day War in 1967, the centrepiece of US Middle Eastern policy has been its relationship with Israel. The combination of unwavering support for Israel and the related effort to spread 'democracy' throughout the region has inflamed Arab and Islamic opinion and jeopardised not only US security but that of much of the rest of the world. This situation has no equal in American political history. Why has the US been willing to set aside its own security and that of many of its allies in order to advance the interests of another state? One might assume that the bond between the two countries was based on shared strategic interests or compelling moral imperatives, but neither explanation can account for the remarkable level of material and diplomatic support that the US provides. more
A War for Israel
Jeffrey Blankfort in Left Curve - When Malaysian Prime Minister Mathahir Mohammed declared at an international Islamic Conference in Kuala Lumpur in mid-October, 2003 that "today the Jews rule the world by proxy [and] They get others to fight and die for them," the reactions in the U.S. and the West were predictable. more
Making America as 'Secure' as Israel
Alison Weir in CounterPunch - When you're receiving advice "free" or otherwise it's wise to first evaluate the source. It's probably not the best idea to hire a squinting optometrist, a limping podiatrist, or a toothless dentist. If you're considering a heart surgeon and a search for his previous patients turns up too many graves, perhaps it's time to reconsider. In fact, if he's having heart pains, in all kindness perhaps you should call him a doctor. more
Commentary: Slap in the Face
Council for the National Interest - The complete details of the US aid package to Mahmoud Abbas and the Palestinian Authority show that Congress is giving only $139.5 million to the Palestinian Authority and not the full $200 million requested by President Bush. And it's not really going to the Palestinian Authority itself, but rather to USAID approved non-governmental organizations, since Congress is loath to deal with the Palestinian Authority. more
U.S. accused of pro-Israel bias at 2000 Camp David
Nathan Guttman in Haaretz - A member of the U.S. peace team during the 2000 Camp David talks has accused the United States of adopting a distinct pro-Israeli policy that, together with other mistakes, led to the failure of the negotiations between Ehud Barak and Yasser Arafat. more
Restrictions Imposed On Aid to Palestinians
Glenn Kessler in the Washington Post - In the emergency spending bill that lawmakers completed late Tuesday, the White House had sought $200 million "to support Palestinian political, economic, and security reforms," as the president said in his February State of the Union address. But the fine print of the document gives $50 million of that money directly to Israel to build terminals for people and goods at checkpoints surrounding Palestinian areas. Another $2 million for Palestinian health care will be provided to Hadassah, the Women's Zionist Organization of America, while the allocation of the rest of the money is tightly prescribed. more
White House 'Softens' Bush Statement on Israeli Settlements
Palestine Media Center - Backtracking on George W. Bush's call on Israel Tuesday to stop all settlement expansion, the White House on Wednesday softened the US President's stance and said that the upcoming meeting between him and the Israeli Prime Minister will focus mainly on Israel's unilateral "disengagement" plan from the Gaza Strip, and not on expanding the illegal Jewish colony of "Maaleh Adumim," only hours after the Palestinian President welcomed Bush's statement. more
The Bloody Paths to Crawford, Texas
William Hughes in the Baltimore Chronicle & Sentinel - There are plenty of big topics that will most certainly not be discussed when Ariel Sharon and George W. Bush—posing as sheep farmer and cowboy, respectively—meet on April 11 down at the ranch. more
House Sets Limits on Palestinian Aid As DeLay Defies Calls of Bush, Rice
Ori Nir in The Forward - Defying the wishes of the Bush administration, Congress approved a foreign-aid package this week forbidding any direct assistance to the Palestinian Authority and, in a rare snub, denying the president the authority to waive restrictions in the interest of national security. more
Reflecting on Our Relationship with Israel
Former Congressmember Paul Findley - Nine-eleven would not have occurred if the U.S. government had refused to help Israel humiliate and destroy Palestinian society. Few express this conclusion publicly, but many believe it is the truth. I believe the catastrophe could have been prevented if any U.S. president during the past 35 years had had the courage and wisdom to suspend all U.S. aid until Israel withdrew from the Arab land seized in the 1967 Arab-Israeli war. more
'They hate our policies, not our freedom'
Late on the Wednesday afternoon before the Thanksgiving holiday, the US Defense Department confirmed the contents of a report by the Defense Science Board that is highly critical of the administration's efforts in the war on terror and in the wars in Iraq and Afghanistan. more
The Middle East in Election 2004: The Capitol Hill Hearings
View the CNI film about US Middle East policy. more
Drought in Texas
Israeli journalist Uri Avnery - American elections can be as important for Israel as our own, since the occupant of the White House can influence the fate of Israel in many significant ways. But they have an additional significance: the months before the American elections are a kind of open season for Israel. The basic assumption is that no candidate for the White House would dare to provoke the American Jewish voters at election times. more
Bush's failed Mideast policy is creating more terrorism
US Senator Ernest F. Hollings - With 760 dead in Iraq and over 3,000 maimed for life, home folks continue to argue why we are in Iraq – and how to get out. more
Text of Former US Diplomats' Letter Criticizing Bush's Mideast Policy
Sixty former US diplomats, many of them high ranking, sent the following letter criticizing President George W. Bush's mideast policy. Read the letter!
Bush's Dramatic Shift in Mideast
Helen Thomas in the Seattle Post-Intelligencer - If President Bush wants to give land away, there is always his 1,600-acre ranch at Crawford, Texas. But he has no right to endorse the Israeli claim to the captured or settled property on the West Bank that belongs to the Palestinians. more
Sharon's Banana Republics
Afif Safieh in The UK Guardian - The study of American-Israeli relations has preoccupied two generations of scholars. Two competing schools of thought addressed the "who wags whom" debate. The first school spoke of "an American Israel", with the United States dictating to the local ally its regional policy in accordance with the American global vision. The second school projects the image of "an Israeli America", a complex relationship where the global superpower adopts the regional policy of its client state and integrates it in its global strategy. This is seen as a result of a powerful pro-Israel lobby that succeeded in turning "Capitol Hill into another Israeli-occupied territory". more
Palestinian Issue Riddles Bush's 2005 Budget
Sam Bahour in The Electronic Intifada - The references to Palestinians in the budget are many and repetitive. Not only has the Bush Administration failed in realistically engaging the issue toward a peaceful resolution, but, viewed through the proposed budget, President Bush has totally adopted the state line of Israel on almost every account. Bottom line, the Israeli military campaign against Palestinians will continue and the US taxpayer is knowingly, or otherwise, footing the bill. more
Iraq War Launched to Protect Israel – Bush Adviser
Emad Mekay, Inter Press Service - IPS uncovered the remarks by Philip Zelikow, who is now the executive director of the body set up to investigate the terrorist attacks on the United States in September 2001 – the 9/11 commission – in which he suggests a prime motive for the invasion just over one year ago was to eliminate a threat to Israel, a staunch U.S. ally in the Middle East. more
Even in the Never-Never Land of Israeli Intelligence, the Truth Occasionally Will Out
Richard H. Curtiss in the Washington Report on Middle East Affairs - Israeli intelligence sources and political leaders provided "an exaggerated assessment of Iraqi capabilities," raising "the possibility that the intelligence had been manipulated," wrote Brom, former deputy chief of planning for the Israeli army. Brom said his remarks were directed at Israel's Military Intelligence, Air Force Intelligence and the Mossad intelligence agency. The Israeli army declined to comment on his report, and the Mossad did not return press calls. more
U.S. Aid to Israel Subsidizes a Potent Weapons Exporter
Jim Krane of the Associated Press - In France, Turkey, The Netherlands and Finland, Israeli companies have edged such U.S. firms as Raytheon, Northrop Grumman and General Atomics out of arms deals worth hundreds of millions of dollars in recent years. The irony, experts say, is that tens of billions of U.S. tax dollars and transfers of American military technology helped create and nurture Israel's industry, in effect subsidizing a foreign competitor. more
Israel Charged with Systematic Harassment of U.S. Marines
Donald Neff in Washington Report on Middle East Affairs - It was 12 years ago, on March 14, 1983, that the commandant of the Marine Corps sent a highly unusual letter to the secretary of defense expressing frustration and anger at Israel. General R.H. Barrow charged that Israeli troops were deliberately threatening the lives of Marines serving as peacekeepers in Lebanon. There was, he wrote, a systematic pattern of harassment by Israel Defense Forces (IDF) that was resulting in "life-threatening situations, replete with verbal degradation of the officers, their uniform and country." more
Truman Overrode Strong State Department Warning Against Partitioning of Palestine in 1947
Donald Neff in the Washington Report on Middle East Affairs - On Sept. 22, 1947, Loy Henderson strongly warned Secretary of State George C. Marshall that partition of Palestine into Arab and Jewish states was not workable and would lead to untold troubles in the future. Henderson was director of the State Department's Office of Near Eastern and African Affairs and his memorandum, coming less than a month after a United Nations special committee had recommended partition, stands as one of the most perceptive analyses of the perils that partition would bring. more
U.S. Vetoes of U.N. Resolutions on Behalf of Israel
Donald Neff in the Washington Report on Middle East Affairs - On Sept. 10, 1972, the United States employed its veto in the UN Security Council for only the second time in history—to shield Israel. That veto, as it turned out, signalled the start of a cynical policy to use the U.S. veto repeatedly to shield Israel from international criticism, censure and sanctions. more
Let Us Rethink Our 'Special Relationship' with Israel
Sterling Professor of Law Emeritus Charles Black (Yale University) - I believe that the so-called "special relationship" now assumed to connect the United States and Israel ought to be radically rethought in all its aspects and clear down to its deepest foundations. I believe such a rethinking would sooner or later put an end to this "special relationship," in anything at all like its present form. This "relationship," as it now functions de facto, is sweepingly and grossly incompatible with our country's supposed dedication to the cause of human rights throughout the world; it poisons the sheer basic honesty of that dedication; and must more and more be seen to do so, by ourselves and by the whole community of peoples and nations. more