Parents of critically injured US peace activist demand justice from Israel
Peace campaigner was struck in head with teargas grenade during demo in occupied West Bank.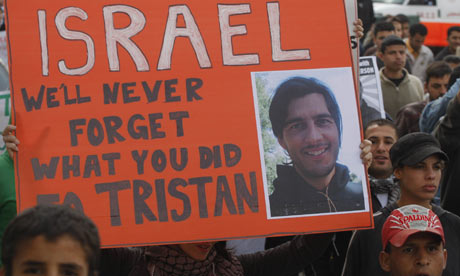 Protestors hold up a poster of Tristan Anderson, who was injured by Israel troops. Photograph: Nasser Shiyoukhi/AP
The parents of an American peace activist who was severely injured by Israeli forces at a demonstration in the occupied West Bank called on the Israeli government today to take "full responsibility" for the shooting.
Tristan Anderson, 38, was hit in the forehead by a high-velocity teargas canister fired by an Israeli border policeman in the village of Nilin earlier this month. The incident came after a demonstration against Israel's West Bank barrier, which as elsewhere has cut off a large slice of the village's agricultural land.
Since last July, four Palestinians have been killed by Israeli forces in similar demonstrations in the village.
Anderson was rushed to the Tel Hashomer hospital in Israel, where he has already had three operations. He lost the sight in his right eye and doctors had to remove portions of his frontal lobe. It is not clear if he will survive, or how much brain damage he may have suffered.
His parents, Nancy and Michael, who flew out from their home near Sacramento in California to be at his bedside, said he remained in a "very critical condition" in a medically induced coma.
"We are horrified and overwhelmed," said Nancy Anderson. "We are scared and really still in shock. To shoot peaceful demonstrators is really horrifying to us. What we want to ask is that the Israeli government publicly take full responsibility for the shooting of our son."
She said no Israeli official, from either the government or the military, had contacted the couple since their son was hurt. "I don't carry any negative feelings towards the soldier who shot our son," she said. "All I feel is love for Tristan and fear for his recovery."
Tristan Anderson worked in Oakland, California, as part of a crew involved in setting up conventions. He arrived in Israel in February with his girlfriend, and was planning to stay three months before joining his parents in Europe for a holiday.
He had been involved in previous peace demonstrations elsewhere in the world, including in Iraq in 2003, El Salvador and Guatemala. He was at the 2000 demonstration in Prague against the World Bank and IMF.
"Tristan has always been interested in how societies that go through conflict are able to resolve their issues," said his father. "He came to understand for himself what the Israeli-Palestinian conflict was about. It is ironic that the country in which he was shot is a democracy where it is supposed to be a duty for everyone to follow their conscience. We want to know the truth of what happened and we want justice for our son."
Jonathan Pollack, an Israeli activist who was at the demonstration this month, said Tristan was hit at around 4.30pm inside the village, at least 1km from the barrier, at a time when the demonstration was dispersing. Although, as is often the case, there had been some stone-throwing at the protest, he said Tristan had never thrown any stones or taken any violent action. Pollack said Israeli border police had led an incursion into Nilin that morning.
"For hours before he was shot, Tristan was nowhere near the wall," he said. It is thought he was hit by a high-velocity teargas grenade, a weapon newly being used against West Bank demonstrators. It comes in a black canister labelled in Hebrew "40mm bullet special/long range", and is silent when fired, according to demonstrators. Tristan was hit from a distance of about 60 metres, they said.
Michael Sfard, an Israeli human rights lawyer acting for the Anderson family, said he had filed an official complaint demanding an independent investigation. He said that evidence from Israeli human rights researchers showed neither the border police nor the barrier itself were under any threat at the time of the shooting.
"The incident took place in the village of Nilin when the protesters came back to the village after a peaceful demonstration," Sfard said. "The policemen involved, both the guy who shot and the officers who gave orders, must take the full might of criminal justice."
The Israeli military described the protest as a "violent riot", saying that "approximately 400 rioters threw a massive number of rocks at security forces".
"Israel regrets that the Israeli and foreign nationals co-operate with violent rioters against the building of the security fence, whose purpose is saving the lives of Israeli citizens," it said. "As such, any Israeli, Palestinian, or foreign national who illegally participates in a violent demonstration takes upon himself the risk of personal harm during the dispersal of these disturbances."