Documentaries
In addition to these films, we recommend you check out the many documentaries available from Americans for Middle East Understanding and Palestine Online Store, and watch our videos online.
Occupation 101 | Screenings
Description: 'Occupation 101' presents a comprehensive analysis of the facts and hidden truths surrounding the Israeli-Palestinian conflict; and dispels many of its long-perceived myths and misconceptions. The film also details life under Israeli military rule, the United States' role, and sheds light on the major obstacles which stand in the way of a lasting and viable peace.
Directors: Sufyan Omeish and Abdallah Omeish
Awards: 2006 Artivist Best Feature Film Award in the category of Human Rights
Best Feature Film Award at River's Edge Film Festival
Best Documentary Feature Award at The deadCenter Film Festival
Audience Award for Best Documentary at East Lansing Film Festival
John Michaels Memorial Award at the Big Muddy Film Festival.
View Clips Online | Myspace Page
People and the Land | Buy it!
Reviews: "Perhaps the most important documentary ever made about Israel and Palestine." – We Hold These Truths
"...a powerful and compelling portrayal of the situation that highlights the human rights violations against the Palestinian community." – Global Exchange
Director: Tom Hayes
Awards: The American Arab Anti-Discrimination Committee established an award in the filmmaker's name
Silver Screen Award, U.S. International Film Festival
Chris Award, Columbus International Film Festival
View it Online | Buy It
Palestine is Still the Issue
Reviews: After a three-month investigation, the British Independent Television Commission (ITC) praised the film's journalistic integrity, the "care and thoroughness with which [the film] was researched," and the "comprehensiveness and authority" of the film's sources.
Director: Anthony Stark; Written and Presented by John Pilger (named Media Personality of the Year in 2003 by the Ethnic Multicultural Media Awards)
Producer: Christopher Martin for Carlton International Media Ltd.
Awards: Chris Award, Columbus International Film Festival
Best of Category, Vermont International Film Festival
Certificate of Merit, Chicago International Television Awards
Buy It | View It Online
Deir Yassin Remembered
Description: Early in the morning of April 9, 1948, commandos of the Irgun (headed by Menachem Begin) and the Stern Gang attacked Deir Yassin, a village ... all with about 750 Palestinian residents. The village lay outside of the area to be assigned by the United Nations to the Jewish State; it had a peaceful reputation. But it was located on high ground in the corridor between Tel Aviv and Jerusalem. Deir Yassin was slated for occupation under Plan Dalet and the mainstream Jewish defense force, the Haganah, authorized the irregular terrorist forces of the Irgun and the Stern Gang to perform the takeover.
In all over 100 men, women, and children were systematically murdered. Fifty-three orphaned children were literally dumped along the wall of the Old City, where they were found by Miss Hind Husseini and brought behind the American Colony Hotel to her home, which was to become the Dar El-Tifl El-Arabi orphanage.
Website: http://deiryassin.org
Watch Online | Order DVD
Jerusalem: An Occupation Set in Stone
Reviews: ""This forceful documentary explores the devastating effects of exclusive Israeli sovereignty over Jerusalem from the Palestinian perspective...Jerusalem: An Occupation Set in Stone? introduces us to Jerusalemites we rarely hear from — Palestinians who have suffered from what they see as the repressive measures of Israeli occupation." &ndash San Francisco Jewish Film Festival
"Changing demographics, border closures and competing claims to the city are examined in dramatic eyewitness testimony and startling footage skillfully shot and edited...this is an immediate and unforgettable document." – Toronto Jewish Film Festival
Director: Marty Rosenbluth
Producer: The Palestine Housing Rights Movement
Awards: Gold Award - Best Political/International Documentary at the Charleston Film Festival
Silver Award - Political/International Issues Documentaries at the Houston International Film Festival
Bronze Plaque (2nd place) - Social Issues Documentaries at the Columbus International Film and Video Festival
Buy It | Watch It Online
Dispatches: The Killing Zone
Description: While the world's attention has been fixed on the war in Iraq, Dispatches reporter Sandra Jordan and producer Rodrigo Vasquez risk their lives to reveal the shocking level of daily violence and murderous hate in the Gaza Strip.
Palestinian civilians live under the threat of Israeli Defence Force attacks that do not discriminate between militants and children. Israeli setlers live in fear of suicide attacks.
But it is not only Palestinians and Israelis who are dying. Since the Gulf war, three Westerners have come under Israeli army attack... (read more)
Journalist: Sandra Jordan
Producer: Rodrigo Vasquez
Organization: UK's Channel 4 Dispatches
Buy It | Watch It Online
The Loss of Liberty
Description: During the 1967 War between Israel and the Arab States, the American intelligence ship USS Liberty was attacked for 75 minutes in international waters by Israeli aircraft and motor torpedo boats. Thirty-four men died and 172 were wounded. This film investigates this tragic event.
Director: Tito Howard
Producer: Tito Howard
Buy It:Send a check for $25 (or, for three or more, $15 each) to the "Liberty Alliance," 4 East Main St., Front Royal, VA 22630 | Watch It Online
Peace, Propaganda & the Promised Land
Description: Peace, Propaganda & the Promised Land provides a striking comparison of U.S. and international media coverage of the crisis in the Middle East, zeroing in on how structural distortions in U.S. coverage have reinforced false perceptions of the Israeli-Palestinian conflict.
Director: Bathsheba Ratzkoff & Sut Jhally
Producer: Bathsheba Ratzkoff
Website: Peace, Propaganda, and the Promised Land
Buy It | Watch It
The Israeli Wall in Palestinian Lands
Description: Two American filmmakers set out to explore the impact of the Wall on Palestinian lives. They talk with seven Palestinians; a young mother from Dheisheh refugee camp, a businessman from Abu Dis, a music student from Ramallah, a school director from Jerusalem, a farmer from Jayyous, the director of the Stop the Wall campaign in Beit Hanina, and an African-Palestinian tour guide in Jerusalem. These diverse perspectives shed light on the true impact of the Wall. This authentic, powerful film is a must-see for anyone wishing to learn the truth about the Israeli Wall. It needs to be seen by all Americans.
Director: Andrew Courtney and Emily Perry
Producer: Andrew Courtney and Emily Perry
Website: www.wallfilm.com
Buy It: Send a donation for $15 to If Americans Knew, 6312 SW Capitol Hwy, #163, Portland OR 97239. This is only available in DVD format.
Jenin Jenin
Description: "Jenin Jenin" includes testimony from Jenin residents after the Israeli army's Defensive Wall operation, during which the city and camp were the scenes of fierce fighting. The operation ended with Jenin flattened and scores of Palestinians dead.
Director: Muhammad Bakri
Producer: Muhammad Bakri and Iyad Sumadi (who was shot and killed by Israeli soldiers shortly after the filming was finished)
Awards: Best Film at the Carthage International Film Festival
Buy It
Until when...
Description: Set during the current Intifada, this documentary follows four Palestinian families living in Dheisheh Refugee Camp near Bethlehem. Fadi is 13 and cares for his 4 younger brothers, the Hammashes are a close-knit family who pass on the lessons of life with humor and passion, Sana is a single woman who endures long commutes to do community work, and Emad and Hanan are a young couple trying to shield their daughter from the harsh realities of the occupation. They talk about their past and discuss the future with humor, sorrow, frustration and hope. 'until when...' paints an intimate in-depth portrait of Palestinian lives today.
Director: Dahna Abourahme
Producer: Annemarie Jacir and Suzy Salamy
Associate Producer: Jess Ghannam
Website: www.falafeldaddy.org/
Buy It
Israel-Palestine Timeline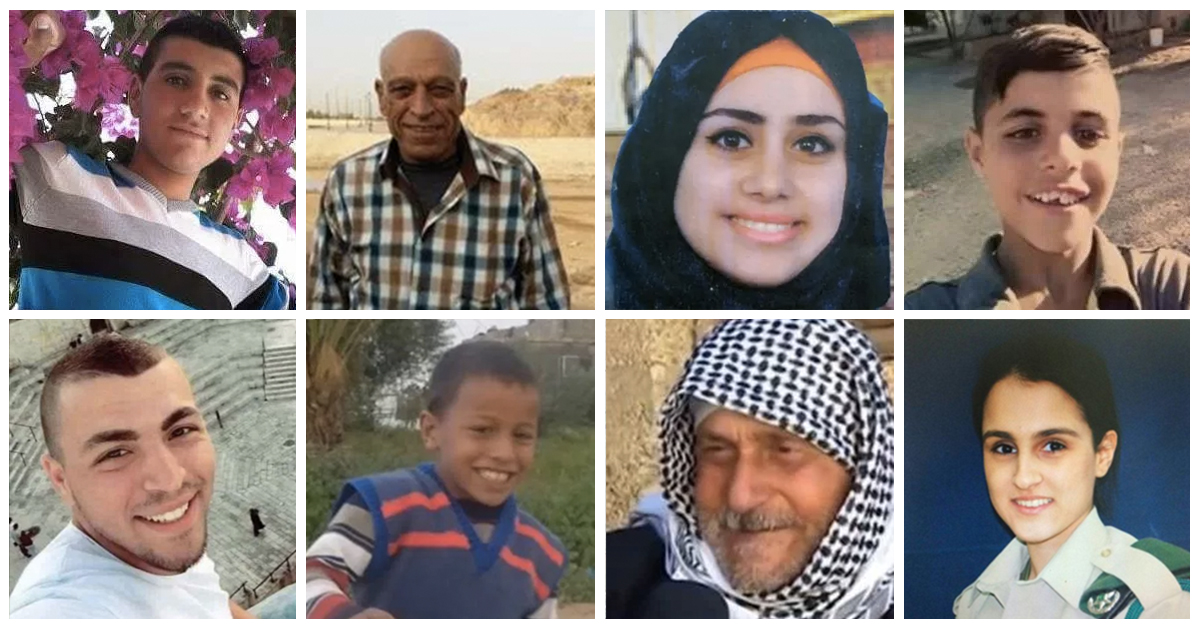 Israel-Palestine Timeline: The human cost of the conflict records photos and information for each person who has been killed in the ongoing violence.
History of the Israel Lobby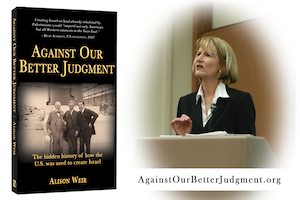 Alison Weir's book Against Our Better Judgement: How the U.S. was used to create Israel brings together meticulously sourced evidence to outline the largely unknown history of U.S.-Israel relations.
Buy it on Amazon, and visit the book website for reviews, more ordering options, and upcoming author events.
---
Featured Links in This Section