Articles About Israeli and Palestinian Deaths
Back to Death Statistics.
Gabrielle Giffords, Tom Hurndall and Palestinian Children: Shot in the Head
Alison Weir, CounterPunch - There is something particularly horrifying when someone is shot in the head. Perhaps it's the gruesome image, the destruction of the brain, the clear intent to kill. The recent shooting of Arizona Congresswoman Gabrielle Giffords is made even more nightmarish by the location of her devastating injury. Those of us who focus on Israel-Palestine are acutely aware of this horror. more
Impressions of Israeli Executions in the West Bank
Vijay Raghavan - Much planning had gone into our family vacation in Israel-Palestine. We could spare only the last two weeks of 2009, and so had developed an uncompromising itinerary for each day, allowing a mere half-day to recover from jet lag from our trip from California. After devoting most of the first week to visiting holy places in Jerusalem, Bethlehem, Hebron and Jericho, we were, in the words of our 17-year-old, quite "churched out." We are a typical American family in at least one regard: we have two other children (ages five and two), and we are all blessed with limited attention span. Absorbing detailed references to the Old and New Testaments in the places we visited was beyond our capabilities. Our hired tour guide and driver, Issa Habash, had long ago taken notice of our monumental ignorance and had given up on reciting chapter and verse from the Bible. more
Confirmed figures reveal the true extent of the destruction inflicted upon the Gaza Strip; Israel's offensive resulted in 1,417 dead, including 926 civilians, 255 police officers, and 236 fighters
Palestinian Centre for Human Rights - The Israeli offensive launched on the Gaza Strip between 27 December 2008 and 18 January 2009 resulted in extensive death, injury and destruction throughout the Gaza Strip. Only now is the true extent of the devastation becoming apparent. more
Twilight Zone / The children of 5767
Gideon Levy in Haaretz - It was a pretty quiet year, relatively speaking. Only 457 Palestinians and 10 Israelis were killed, according to the B'Tselem human rights organization, including the victims of Qassam rockets. Fewer casualties than in many previous years. However, it was still a terrible year: 92 Palestinian children were killed (fortunately, not a single Israeli child was killed by Palestinians, despite the Qassams). One-fifth of the Palestinians killed were children and teens - a disproportionate, almost unprecedented number. The Jewish year of 5767. Almost 100 children, who were alive and playing last New Year, didn't survive to see this one. more
Targeted killing won't bring peace
Dr. Mustafa Barghouti in the International Herald Tribune - As we enter the 41st year of Israel's military occupation, one of the more sinister policies inflicted upon us is what Israel calls "targeted killings." Israel applies no death penalty, except against Palestinians living under Israeli military government in the West Bank and Gaza Strip. more
Israel killed more than 650 Palestinians in 2006, up threefold from 2005: Amnesty
The Associated Press in the International Herald Tribune - Israeli troops killed more than 650 Palestinians last year – half of them unarmed civilians and including some 120 children – a threefold increase from 2005, a leading human rights group said Wednesday. more
The last casualty?
Gideon Levy in Haaretz - The numbers don't lie. They never do. In the past month, the number of Palestinians killed by Israeli forces was 45 times greater than the number of Israelis killed by Palestinians. The Palestinian dead included 13 minors. All in one deadly month. The last name on the list is Ayman Abu-Mahdi, a 10-year-old boy who had come home from school and gone out to get a little air with his siblings and friends. He was sitting on a bench in front of his house. The time: 15 hours before the cease-fire in Gaza. more
Aid agencies condemn Gaza carnage
BBC - International aid agencies have reacted with dismay to the violence in Gaza in which at least 18 Palestinian civilians are known to have died. more
Suicide, number 1 killer in the Israeli army
Saed Bannoura in IMEMC - An Israeli source reported that 16 Israeli soldiers committed suicide since the beginning of 2005. Similar to 2004, suicide remains the number one killer in the Israeli army. more
Killing children is no longer a big deal
Gideon Levy in Haaretz - More than 30 Palestinian children were killed in the first two weeks of Operation Days of Penitence in the Gaza Strip. It's no wonder that many people term such wholesale killing of children "terror." Whereas in the overall count of all the victims of the intifada the ratio is three Palestinians killed for every Israeli killed, when it comes to children the ratio is 5:1. According to B'Tselem, the human rights organization, even before the current operation in Gaza, 557 Palestinian minors (below the age of 18) were killed, compared to 110 Israeli minors. more
Israeli Troops Kill 3 Palestinian Teens
Ibrahim Barzak in the (AP) - GAZA CITY, Gaza Strip - Israeli troops fired at a group of Palestinians in a southern Gaza Strip refugee camp Saturday, killing three teenagers in the deadliest incident in Gaza since Israel and the Palestinians declared a cease-fire two months ago. more
177 Palestinian Prisoners Killed Since 1967
International Press Center (PNA) - Figures released by the Prisoner and Ex-Prisoner Ministry showed that 177 Palestinian detainees were killed inside the Israeli jails since 1967. Planning and Statistics Department of the Ministry said, in a statistical report, 69 Palestinian prisoners (39%) were killed due to being liable to severe torture whilst 37 prisoners (20.9%) died due to the lack of medical health care. more
Palestine: the assault on health and other war crimes
Derek Summerfield in the British Medical Journal - Does the death of an Arab weigh the same as that of a US or Israeli citizen? The Israeli army, with utter impunity, has killed more unarmed Palestinian civilians since September 2000 than the number of people who died on September 11, 2001. In conducting 238 extrajudicial executions the army has also killed 186 bystanders (including 26 women and 39 children). Two thirds of the 621 children (two thirds under 15 years) killed at checkpoints, in the street, on the way to school, in their homes, died from small arms fire, directed in over half of cases to the head, neck and chest—the sniper's wound. more
Suicide No. 1 Cause of Death in IDF
Amir Rapoport in Maariv International - The greatest fear of a family sending their children to the Israeli army is that they will be killed during a military operation but an internal report conducted by the security services reveals that parents should be more concerned about suicide. more

Retaliation?
84 Palestinian children, many shot in the head, were killed BEFORE the first Israeli child died. more
Israel-Palestine Timeline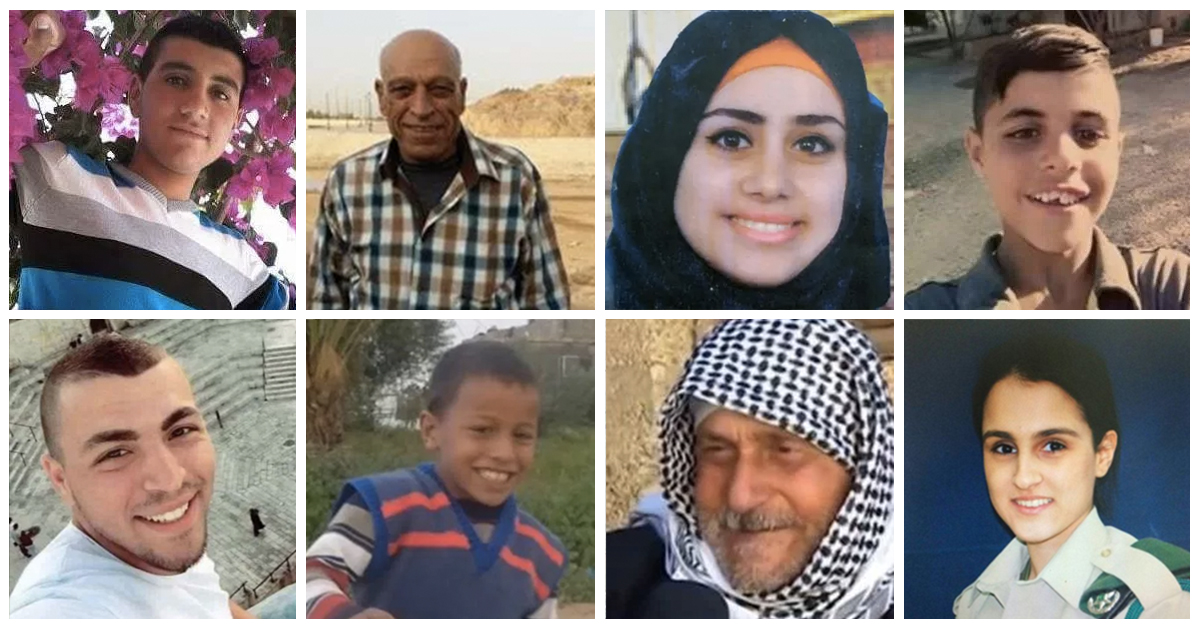 Israel-Palestine Timeline: The human cost of the conflict records photos and information for each person who has been killed in the ongoing violence.
History of the Israel Lobby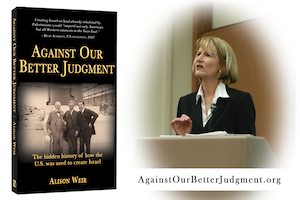 Alison Weir's book Against Our Better Judgement: How the U.S. was used to create Israel brings together meticulously sourced evidence to outline the largely unknown history of U.S.-Israel relations.
Buy it on Amazon, and visit the book website for reviews, more ordering options, and upcoming author events.
---
Stay Informed
Sign up for our mailing list and receive an email whenever we post a new article on our news site, Israel-Palestine News.