I've only heard bits and pieces about my father throughout my life. I've heard he was a very gentle and caring man--one that would open his home to anyone who needed a warm place to stay. I've heard he loved God and lived his life in a way that showed that. He had a great imagination, and as he was growing up my Granny (his mom) would see him outside, by himself, for hours on end, playing cowboys and indians, having a grand ol time. I've met some of those who knew him growing up, and to this day they are still overtaken by sorrow as they try to talk to me about him. He was a good-looking man, and from what I've heard had no problems in the dating department during his school days.
I don't know how he and my mom met--she doesn't talk much about him. I imagine it brings up a lot of pain for her. But, from what I understand, they were very much in love. My brother was born in Scotland in 1964. He is the spittin' image of my father! He doesn't remember much, if anything, about him either, as he was just short of 3 when Ronnie was killed. I can't imagine the grief, fear and anger my mom must have had as a young widowed mother with a baby on the way in 1967. So many lives were turned upside down that day. Thirty-four families ripped apart and countless others shaken to their core.
One day, when my life on this earth is done, I will meet this man who has been such a mystery to me. I have so much to tell him about my life. So much he missed out on. So much we missed out on.
Thank you for this opportunity to pay tribute to my father.
Written By
Deborah Casswell (Campbell)
Wednesday, January 21, 2004
Summary
CT2 Ronnie Jordon Campbell, USN, 586 13 23
Born 4 November 1942, Sevierville, Tennessee
Active duty since 6 September 1961
Wife: Elizabeth E. Campbell
Parents: Mr. & Mrs. Raymond C. Campbell, Sevierville, Tennessee
Died in Naval Security Group (intelligence) Department spaces
Buried: Arlington National Cemetery, Grave 1145C, Section 13
Remembrance: Ronnie Campbell Barracks in Edzell, Scotland
Ronnie J. Campbell Memorial Library Display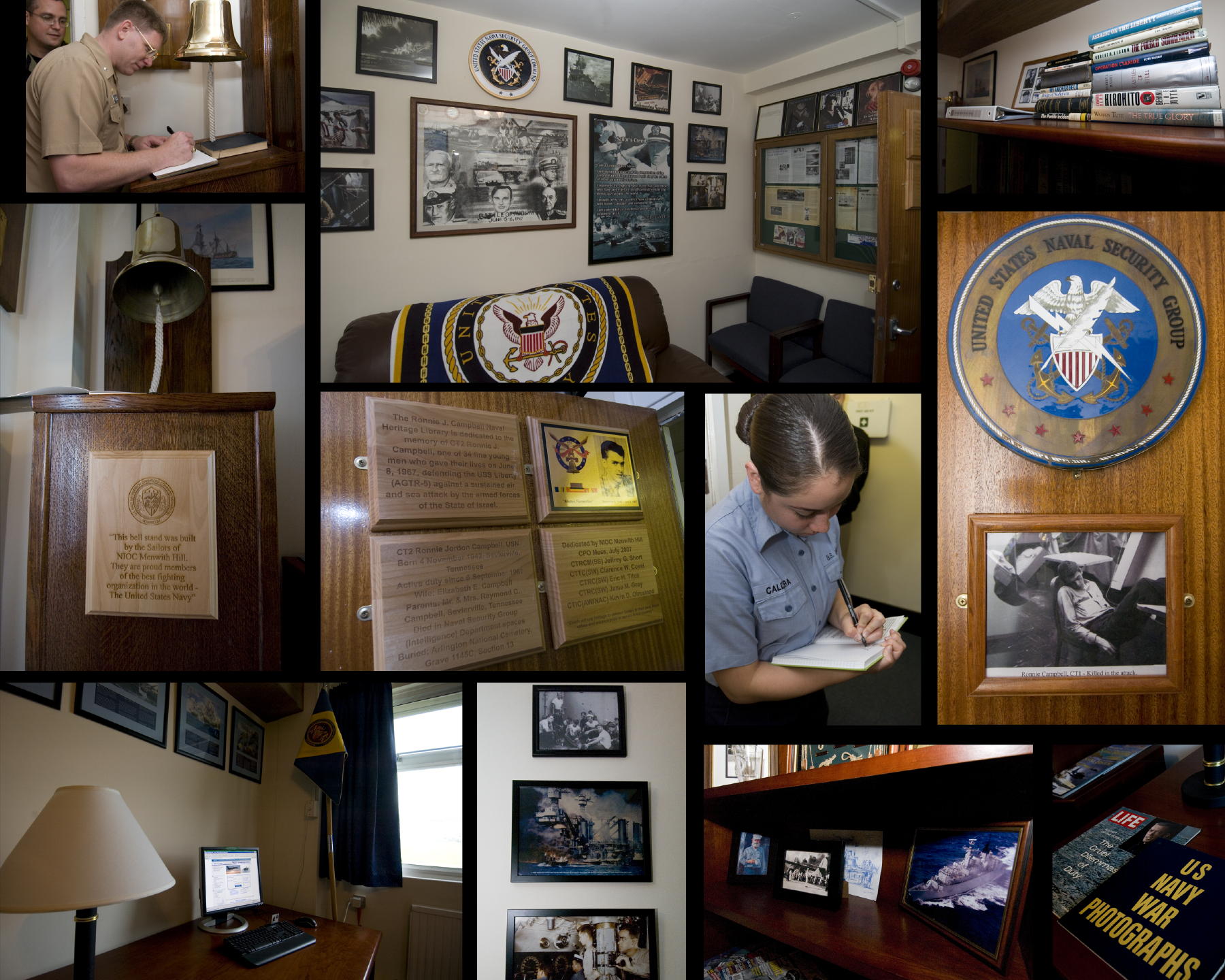 CTRCM(SS) Jeffrey Short has created this memorial display at the Navy Information Operations Command, Menwith Hill, United Kingdom, in memory of Ronnie J. Campbell who lost his life in the attack on USS Liberty.